QUESTIONS
P.O. Box 631 Station A
Toronto, ON, M1K 5E9
The Sporting Life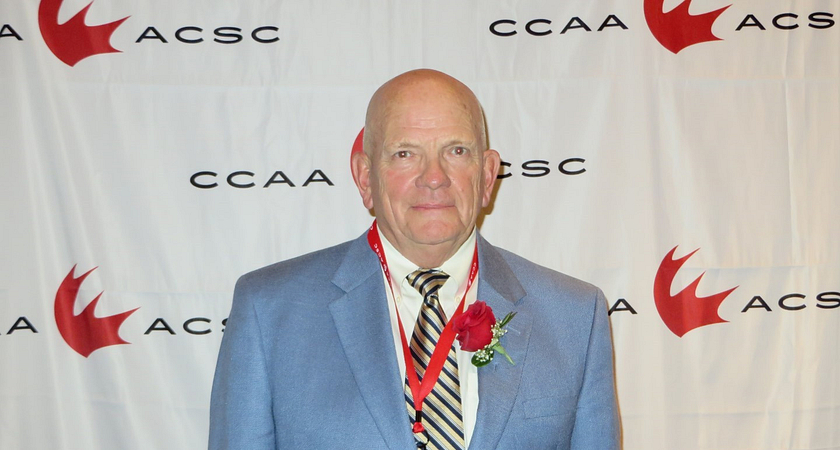 Athletics is an important part of student life at Centennial. There are dozens of recreational, wellness and intramural programs as well as state-of- the-art sports and fitness facilities at four campuses. That's a far cry from the late 1960s when the College began building an athletics program from the ground up – literally.
"When I arrived as a faculty member in the new Recreational Leadership program in September 1968, Centennial's athletic facilities were still under construction on the first floor of the old Warden campus," say Chuck Gullickson. "We didn't get in until October which required us to use external facilities for at least a month."
And the finished product was creative to say the least.
"We were located in what had been an industrial building and the old loading dock had been turned into our new gym," he says. "The lower level was the gym floor and offices and lockers were on the upper deck. It was makeshift and minimal, but Centennial wasn't alone. Most of the new colleges back then were in a similar situation."
The less than perfect facilities didn't dampen the enthusiasm of the growing student body and it soon became clear that improved facilities and more organized recreational and competitive athletics programs would be needed. In 1974, Chuck became Athletic Director, taking over from Centennial's first Athletic Director Dennis McDonald who'd held the position since 1968. Chuck remained in the position until he retired in 1998 (his title changed to Director of Student Life in the late 80s.).
"I never thought I'd stay for 30 years but I was with Centennial during a time of tremendous growth and innovation. We never had the chance to sit on our hands! It was always challenging, interesting and exciting."
Born in the small prairie town of Naicam, Saskatchewan, Chuck attended Western Michigan University on a football scholarship, graduating with a Bachelor of Science and Education in 1963. He then returned to Regina where he briefly taught high school before returning to Michigan to complete a Masters in Education Administration. In 1966, He then taught at WMU for two years before accepting a teaching position with Centennial's new Recreation Leadership program.
"I've always valued that opportunity to return to Canada and be part of a new and progressive educational institution," he says.
Chuck considers his involvement in helping bring about new athletic facilities at the Progress Campus one of his most significant achievements.
"We were fortunate to have a president, Douglas Light, who was a strong advocate of recreational and intramural programs," he says. "He was instrumental in the College building great new facilities at the Progress Campus and the gymnasium there bears his name to this day."
The move to the new facilities in 1979 began a golden era in Centennial athletics. During the 80s there were as many as 16 intercollegiate programs a total of three athletic facilities and numerous provincial and Canadian championships including a Canadian Collegiate Athletic Association (CCAA) bronze medal men's hockey, silver in women's volleyball and gold in men's basketball in 1984.
"Programs constantly changed to meet changing student demographics," he says. "We listened to what students wanted and diversity would be represented by cross country running, badminton, and cricket."
Chuck not only had a significant impact on Centennial athletics and recreation, but also on provincial and national sports. He spent more than 30 years volunteering with both the Ontario Collegiate Athletic Association (OCAA) and the CCAA serving in a variety of leadership positions. In 1999, he joined the CCAA as director of marketing, before retiring, once again, in 2002. Today, he is a member of both the OCAA and CCAA Hall of Fames.
"I consider myself very fortunate to have worked with many gifted and dedicated athletes, super coaches and professional colleagues who did most of the heavy lifting.".