QUESTIONS
P.O. Box 631 Station A
Toronto, ON, M1K 5E9
The voice behind the legend: Centennial alumnus Eric Bauza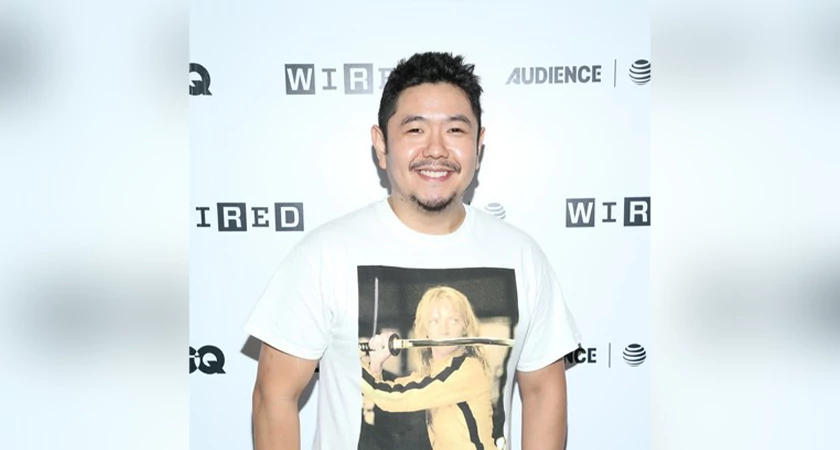 "A lot of people kind of grow out of cartoons as they get older, since it's something just to pass the time as a kid, but some never grow out of them," says Eric Bauza. He'd know best, considering he's now the man behind some of the most famous cartoon characters ever. This Centennial College graduate has become a prolific voice actor, culminating in him being the new, official voice of Looney Tunes characters Bugs Bunny, Daffy Duck, Marvin the Martian, Tweety Bird and others. Here's how Eric got to be the voice behind the iconic bunny.
A Cartoon Calling
"What made me want to start doing voices in the first place is just my love for cartoons in general," Eric says. "I'd have Looney Tunes paraphernalia in my house even if I wasn't the voice of these characters."
From a young age, Eric found himself imitating voices for fun, amusing his friends and family. Eric would take his hobby to the next level, though, dedicating time to researching the people providing the voices.
"Whether it be Looney Tunes, or something modern like The Simpsons, Family Guy, or Beavis and Butthead, I was always curious as to who was doing all these voices," Eric says. "Growing up as a kid, I would always entertain my friends by doing impressions of these characters, and I would often do the research and find out who was behind this character, why I was laughing so much, and who created this voice. I always studied their voices and tried to practice."
"For me, Mel Blanc was the godfather of voice-over," Eric says, referring to the co-creator and voice actor of Bugs Bunny, Daffy Duck, and many other original Looney Tunes. He also cites Toronto comedians like John Candy, Martin Short, Eugene Levy and others as inspirations.
"There's something in the water in Toronto that allows you to morph into these characters," Eric says. "I feel like that was a huge influence on me, people like Mike Meyers and Jim Carrey, seeing them become huge stars and having come from where we're from."
Coming to Centennial College
"You're asked what you want to do with your life, and what you want to pursue," Eric says, "and I always thought, cartoons. Cartoons is where I want to be."
"I don't want to be an actor, per se," he continues, recalling his mindset at the time. "I want to edit things, and I want to make stuff aside from drawing and cartooning and voices. I also have this passion for video editing and that craft, honing in on those skills."
"I saw a program at Centennial College called Radio, Television and Film, and it encompassed so many things I liked about broadcasting in general," Eric says. "Having left elementary school and gone to high school, I was a huge fan of the AV department, making funny sketches with my friends in high school on VHS."
What he learned in school
"I'll never forget my time at Centennial, it was so much fun," Eric says. "I got to work with so many great people, and a lot of the people that graduated from there are huge success stories in Toronto."
"Centennial was definitely there to hone in on what I wanted to do," he continues. "I was the director of our third-year film project, but I also found a lot of joy in being on the radio, inside that campus radio station."
"Centennial definitely taught me what to do and what not to do, and never to be late," Eric says. "[Professor] Ken Cassavoy would often say, you don't watch the 6:00 news at 6:05, you watch it at 6:00. He was a very strict guy, but he was right."
Getting his voice out there
As part of his program, Eric applied to do an internship at an animation studio in Los Angeles, since he had family in the area he could stay with. Still, he had backup plans to intern at a Toronto radio station before he headed out for his interview.
"I flew to LA," Eric says, recalling his interview. "LA during August is like 90 degrees out, and me, from Canada, I show up in a suit and tie. I look like I was selling bibles, not applying for an animation internship. The guy that interviewed me was wearing flip flops, shorts and a t-shirt."
"I got the job! I said yes, and I moved to LA, I lived with my aunt and uncle for nine months," he says. "I had to come back to Toronto to graduate, and I worked in and out of jobs for the next two years." The secret to his success would wind up being the connections he made during his internship in California that would ultimately help him get his career moving.
"It was an internship for me, but [the friends I'd made] left the studio and started working at places like Disney, Warner Brothers, Nickelodeon, just about everywhere," Eric says. "They remembered that I loved to do voices and that I had a passion for cartoons. They called me as soon as they had any leads on work."
"So many people over the years just kept trying to find opportunities to me that were the right fit," he adds. "What I had going for me was that I was from Canada, and everyone from Canada's so nice."
How things got so Looney
"What school and Centennial College prepare you for is the ups and downs of the industry," Eric says. "As artists and writers and journalists, we're out there gathering our own work, we're out there making the cold calls, reaching out to people for a chance to talk, to prove yourself, and to audition."
Since starting his career in the early 2000s, Eric has been pretty prolific in the voice acting field, but his biggest break came in 2010, when auditions began for The Looney Tunes Show, a sitcom-style reboot of the franchise. He auditioned for, and won the role of Marvin the Martian, but Bugs and Daffy went to longtime voice-actor Jeff Bergman. Eric would keep voicing Marvin for nearly decade, before there was a new round of auditions.
"2018 is when they had auditions for Looney Tunes Cartoons, and that's when they opened it back up," Eric says. "So it had been almost a decade before they auditioned Bugs Bunny again, which shows you how often they wanted what I call 'the shaking of the ant farm,' when they hit the reset button, and they want to go from scratch."
"They really went back to the drawing board with Looney Tunes Cartoons," Eric explains. "The designs, the humor, the shorts are only about seven minutes, like the classic ones from the 40s, it's back to basics. It's back to Elmer Fudd chasing Bugs Bunny, and all those shenanigans."
The new batch of Looney Tunes Cartoons currently airs on Teletoon on Sundays in Canada, and on HBO Max in the U.S.
"I had auditioned for it, and when you open up the email that says, would you like to audition for Looney Tunes or Bugs Bunny, it's like finding Willy Wonka's golden ticket," Eric says. "Even if I don't get to do the voice, I still have to try, and I tried again, and ended up booking these roles! It has been too good to be true, and it has those pinch-me-I'm-dreaming moments."
On becoming Bugs Bunny
As for what made him get the part? Eric thinks it comes down to acting, not imitating.
"If you have good vocal range, that's like the cherry on the sundae," he explains. "But if you're a good actor, you have the ability to act as Bugs Bunny, that's different than just being able to sound like Bugs Bunny."
"So what if you go, meeh, what's up, doc? Anyone can say dese catchphrases," he says, slipping seamlessly into a very familiar voice. "But it's beyond the catchphrases, when you have to start reading scripts that were not acted by anyone, ever, that's where the cream rises to the top. That's where it counts the most."
The importance of diversity
"Mel Blanc will always be the voice of Bugs Bunny, the voice of Daffy Duck. He will always be the co-creator of the voices of these characters," Eric says. "I'm the seventh guy to voice Bugs Bunny, and I know I won't be the last, and I'll welcome number eight when that time comes." But what makes Eric different is that he' the first Filipino-Canadian to take on the role.
"When you're in voiceover, normally your appearance shouldn't matter. It's whether or not you can act, that's the core of it," Eric says. "What keeps you in the room is good acting and the ability to make people believe you're this 80-year-old cartoon rabbit."
Still, Eric recalls a time when he was at Warner Brothers' licensing expo, and how he surprised the executives in the room.
"I met with the representatives from Mexico, and they were flipping out that I was the voice of Bugs," he recalls. "They said, that can't be true, you're not old, white, bald and fat. Their minds were blown, because that's what they had been groomed to think."
"To break that norm is fun," Eric says, "and if it's groundbreaking by any means, if it's changing history in any way, if it's encouraging people that have the same face as me, or not have the same face as me – they could be of a completely different culture – if it's encouraging kids and young actors, and old actors who are afraid to use their voice to use their voice, then I'm all for it."
Hopping into the future
Looney Tunes Cartoons premiered around the same time the COVID-19 pandemic spread, so Eric's debut slipped under the radar, until a journalist wrote a profile on him. Since December, he's been inundated with interview requests, which has kept him busy, but grateful.
"When Canada comes knocking, when the entire country, from Vancouver to Toronto to Centennial come asking me about my story, that's when I know it's come full circle," Eric says. "None of this matters until home calls you to talk about your successes. That's when it means something."
When he's not voice acting, Eric still practices his drawing skills, and was even able to quickly sketch a portrait of Bugs Bunny, without breaking his stride.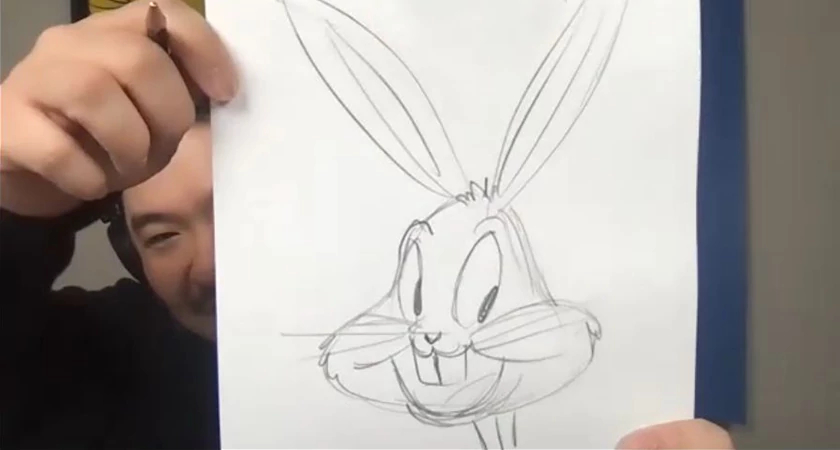 "I definitely want to pitch and maybe create my own show in the future, but that takes a lot of practice, patience and time," Eric says. "It's got to be in your blood and your DNA, and most actors that have been doing it for such a long time, they eventually become the director behind the lens. I feel like I'd love to have an opportunity like that. I feel like I'm getting close to pitching something good and having a story to tell."
More immediately though, the biggest question on this writer's mind was the next big Looney Tunes project, the long-awaited Space Jam 2. In response, Eric effortlessly slips into Daffy Duck's voice. "I've been thworn to thecrecy by the lawyers at Warner Brothers."
By Anthony Geremia