QUESTIONS
P.O. Box 631 Station A
Toronto, ON, M1K 5E9
Toronto Raptors recognize Centennial graduate and volunteer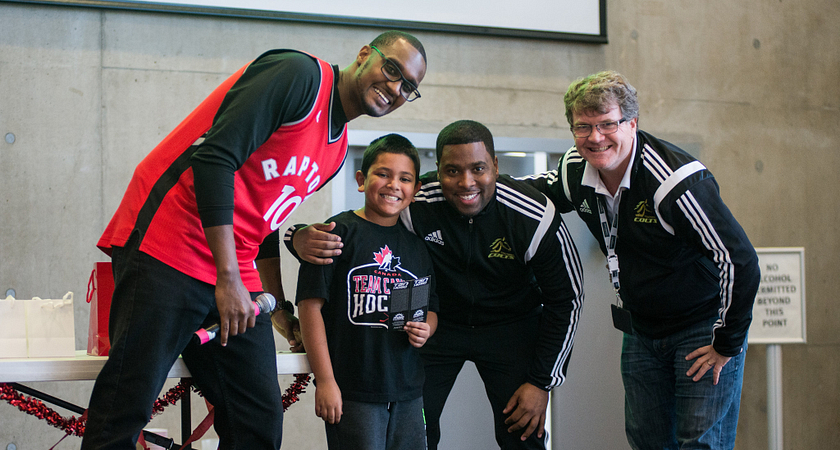 Kareem Rodney is a Centennial College alumnus who enjoys giving back to the community through his love of basketball. Then one day, basketball gave back to him. Rodney has been awarded the Citizen Canada Community MVP Award by the Toronto Raptors for his involvement in Centennial's Beyond the Rim program, which teaches kids some academic skills while having fun on the basketball court.
Rodney originally enrolled in Centennial College's International Business program in 1999, but spent a lot of his time in the campus gym playing basketball. His obsession with the game eclipsed his studies and he sheepishly admits he dropped out of his business program. Fortunately, Rodney found a job and worked for several years.
"In 2008 when the recession hit I got laid off, so I said I'd use the opportunity to come back to school," Rodney recounts his return to Centennial. "I came back in 2009 for Business Marketing, and while taking it, one of my professors, Verne Kennedy, saw that I played basketball, and he asked me if I'd heard of the Play It Smart program."
Rodney immediately warmed up to Play it Smart, which targets 7- to 13-year-old kids living in vulnerable Scarborough neighbourhoods. "We're serving at-risk communities and we're trying to get them out for an hour of education, where we do mentoring, we do academics, and then we put them in the gym for an hour." Rodney explains.
It was new funding from Maple Leaf Sports Entertainment (MLSE), managers of the Raptors team, that prompted the program's name change from Play It Smart to Beyond the Rim, and which also led to Rodney receiving his award.
It all started with yet another responsibility for him: Working in the Raptor's Junior Academy, which MLSE assigned him after seeing Beyond the Rim's success over the past six years. That success led to him receiving the Citizen Canada Community MVP Award in front of 20,000 people at the Raptor's game against the Phoenix Suns on November 29. The award was presented to him by Norman Powell, as seen in the following video:
"It was amazing just getting nominated," Rodney says of the win. "I didn't do this thinking I was going to get any sort of award, but it does feel great to be honoured for the volunteer work I've been doing for the past six years." He notes his volunteer role came about after he realized he wasn't as young as he used to be.
"When I came back (to the college) in 2009, I was a little bit older," he admits, "so I was playing, but I just couldn't keep up. I said to the athletic director at the time, I really want to be involved. So we launched something called the Student Athlete Academic Success Program, where I actually was helping out tutoring and mentoring varsity players." On top of that, he also teaches a rep team of 11-year olds.
"It's just for love of the game. I love being around basketball, I love young kids, I'm a father of a one-year old, and I just really like being a role model. I've been coaching on my rep team for four years now, and it's all about seeing them come out and putting a smile on their face. That's what keeps me going."
There's a more personal reason for his commitment, too. Rodney wishes Beyond the Rim had been around when he first started college: "If I had this program back in the day, I wouldn't have flunked out," he says, adamantly. "When I was growing up, I wasn't rich in any way, and this program is completely free for children, so if I had that, I would have been in a better place when I came to college the first time."