QUESTIONS
P.O. Box 631 Station A
Toronto, ON, M1K 5E9
TSH and Centennial partner to bring mindfulness therapy online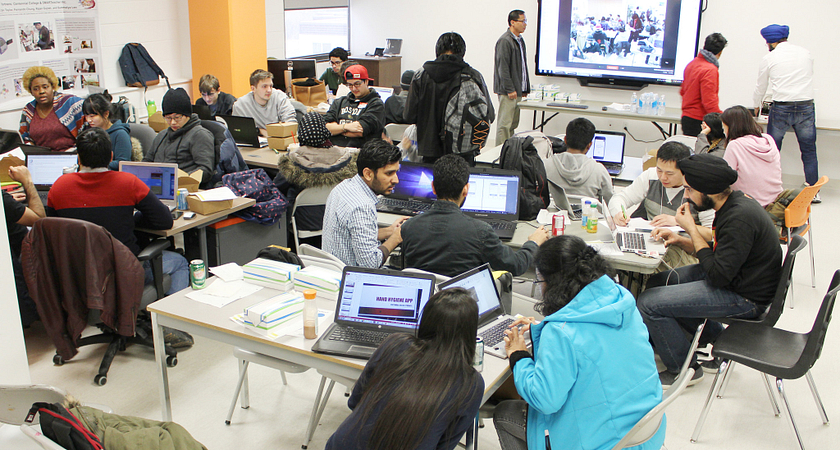 Cancer patients at The Scarborough Hospital (TSH) now have better access to mindfulness therapy, which reduces mood and anxiety symptoms, thanks to a new, first-in-Canada online therapy platform called iMindful. Created through a partnership between TSH and Centennial College, iMindful enables patients to access care on their own terms and on their own schedule –a welcome solution considering the unmet mental health needs of cancer patients.
The program features therapist-guided mindfulness modules, group chats, meditations developed by TSH therapists, and a yoga practice developed by TSH Psychiatrist, Dr. Karen Shin. It also provides links to therapist-approved online resources like the Mental Health App Library, information on sleep hygiene, and more. Patients can even use iMindful to book video appointments with their therapist, or message their therapist using video or private chat.
"We are finding new ways to empower cancer patients who may benefit from mental health support," said Faiza Khalid-Khan, Patient Care Director for TSH's Mental Health department. "iMindful gives patients more control over their own treatment."
For therapists, the platform is a useful tool for monitoring patient engagement, evaluating the effectiveness of the program on their patients, and analyzing metrics that help the Mental Health team tailor the program for patients. iMindful's group chat feature even flags trigger words typed by their patients, so that therapists can deliver appropriate support.
"With iMindful, we are building on our success with Internet-Assisted Cognitive Behavioural Therapy (iCBT), which is available to patients experiencing anxiety and depression," said TSH Psychiatrist Dr. David Gratzer. "Both programs directly support the hospital's strategic direction, 'Patients as Partners.' Our vision is to extend beyond the bricks and mortar of the hospital, and become an e-therapy hub for our community."
The idea for iMindful originated at a two-day hackathon organized by Centennial College's Wearable, Interactive, and Mobile Technologies Access Centre in Health (WIMTACH), where Software Engineering Technology/Technician students were challenged to create apps that could provide low-cost health care solutions.
"Centennial College has an incredible groundswell of innovative thinkers who mirror the talent and skill of those in our Mental Health department," said Alfred Ng, Director of Innovation and Performance Improvement at TSH, and the hospital's WIMTACH lead. "With their expertise in health care technologies, it made perfect sense to collaborate with our neighbour."
From there, the project was approved for funding from Centennial College via its College and Community Innovation grant from the Natural Sciences and Engineering Research Council of Canada. Three students were hired to further develop the concept under the guidance of Mihai Albu, WIMTACH Researcher and Professor with Centennial's School of Engineering Technology and Applied Science.
After meeting with members of TSH's Mental Health department to better understand patient needs, the students developed iMindful with a focus on interaction and engagement. The project was a great success: iMindful was named "Best Web Application" at Centennial's SETAS Technology Fair in April.
"Centennial College attracts a remarkable cross-section of young, brilliant minds from across the GTA and internationally, as well. We have a deep pool of talented, motivated students who work on our WIMTACH projects," said Mihai. "I cannot emphasize enough the team spirit and the efforts of our students to exceed client expectations, as well as my own. I could not be more proud of them!"
iMindful is part of TSH's e-therapy model based on stepped care, and a referral to the program is required. Patients referred to TSH's psycho-oncology program are triaged by a mental health registered nurse into the most appropriate level of support, based on their level of distress.