QUESTIONS
P.O. Box 631 Station A
Toronto, ON, M1K 5E9
Two Centennial grads see their work recognized at the Academy Awards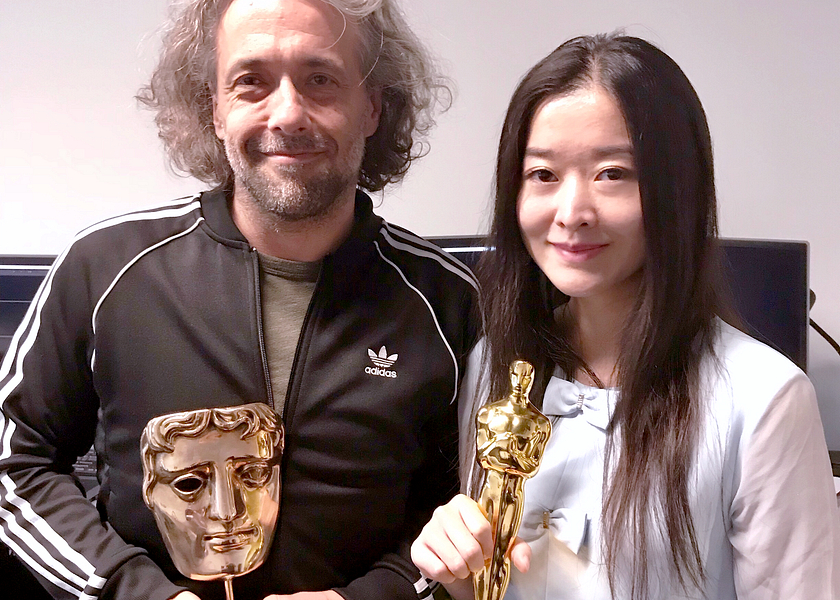 Centennial graduate Jiayin Wang (right) with the Oscar for Visual Effects, along with Double Negative's VFX supervisor Paul Lambert holding a British BAFTA Award.
Centennial College Graphic Design graduate Jiayin Wang had her hands full holding the golden, and heavy (4 kg), Oscar statuette after her team and employer, Double Negative, won the Academy Award for Visual Effects for their production work on the movie Blade Runner 2049 presented during the 90th Oscar Night on March 4.
Jiayin had contributed to the film as a computer graphics (CG) artist, one of dozens who designed and crafted the intricate digital effects that make the dystopian world of Blade Runner 2049 so visually compelling. She had relocated to Vancouver, British Columbia, to join Double Negative, where she worked for almost two years before winning Oscar recognition.
Double Negative is one of the world's leading visual effects and animation companies for feature film and television, with studios in London, Vancouver, Montréal, Mumbai, Chennai and Los Angeles. Founded in London, England in 1998, the firm now employs more than 2,500 people working around the globe.
A second Centennial College graduate also knows the thrill of holding an Oscar this year. Nikita Lebedev worked as a lead modeler on The Shape of Water at the MR. X digital studios in Toronto. He concentrated specifically on the water creature's haunting face and its communicative expressions that left audiences awestruck.
Nikita is a graduate of Centennial's Animation - 3D program who has since returned to share his knowledge and skills with students in the program as a professor. He is regarded as a great teacher – in addition to thriving as a working artist in the industry.
The Shape of Water led the 90th Academy Awards, winning best picture and best director (for Guillermo del Toro), as well as Oscars for production design and original score. MR. X employed 1,500 people in Toronto to provide 600 detailed VFX shots in the final film, adding up to a full hour of footage. MR. X operates studios in Toronto, Montreal, New York and Los Angeles, and recently added a location in Bangalore, India.