QUESTIONS
P.O. Box 631 Station A
Toronto, ON, M1K 5E9
We Are Pleased to Announce Our New VPs and AVP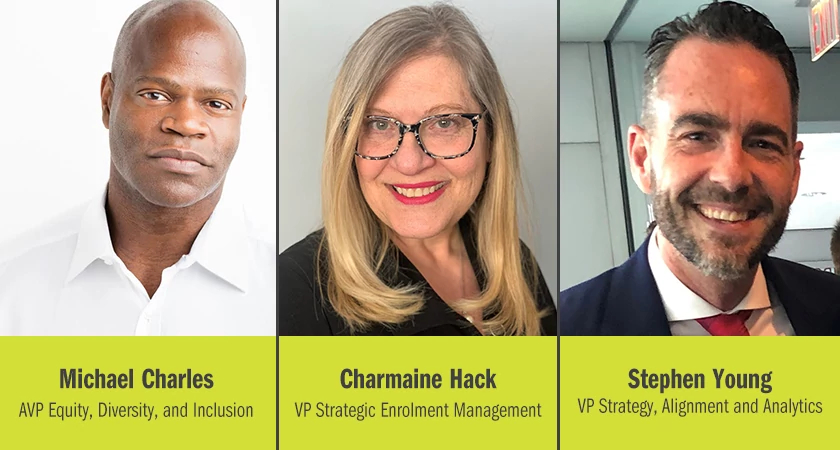 For close to a year, I have shared with the College a strategic blueprint to transform our institution and continue to deliver on excellence during and post pandemic. Our Transformation is both a strategy and a structure...each equally necessary to deliver on our 3- and 7-year strategies that will continue our Mission of educating students for career success. The Executive Team and I have worked extensively with our teams on the new organizational structure that leverages the diversity of talent within Centennial and continues our history of excellence.
To ensure successful integration we have paced the hiring of our critical new roles, starting with the Vice-President, Strategic Enrolment Management (VP, SEM); the Vice-President, Strategic Alignment and Analytics (VP, SA&A); and the Associate Vice-President, Equity, Diversity and Inclusion (AVP, EDI) who will report into the Vice-President, People and Equity division.*
On behalf of all of our colleagues who comprised the three multi-phased selection committees and who represented our various communities within the College, as well as a plethora of diverse life experiences, I am happy to share that we have filled the following three critical roles with exceptional leaders who demonstrated superb ability to deliver the corresponding divisional/portfolio mandates as part of Transformation (start dates are also included):
Colleague
Portfolio
Transformation Strategic Mandate
Biography
Michael Charles

(October 1)
AVP Equity, Diversity, and Inclusion (working title)
Acting as a central hub, enabler and facilitator to drive cultural transformation and strategic decision-making. Comprised of Global Citizenship Education and Inclusion, as well as supporting Indigenous Education, overseeing and addressing the needs of staff, faculty, students and community, and ensuring a seamless connection with inclusive and equity-driven discussions and decision-making, while recognizing that Indigenous peoples are not an equity-seeking group and that Indigenization needs to be practiced in its own right through the broader Place of Reconciliation for All Our Relations and the entire institution.
Read Bio
Charmaine Hack

(October 18)
VP Strategic Enrolment Management
Accountable to align SEM outcomes to ensure student success and continuous improvement, integrate domestic and international recruitment and admissions, oversee marketing and branding, SEM governance and alignment of strategic and operational plans with SEM, and optimize the student journey in line with enrolment targets.
Read Bio
Stephen Young

(September 13)
VP Strategy, Alignment and Analytics
Building a culture of institutional effectiveness through alignment of centralized institutional portfolios, strategic and operational planning, and strategic data-centric practices across the institution. Empowered to embed a Project Management Office (PMO), co-lead values integration for people and culture initiatives with People and Equity, facilitate data-driven practices across the College, develop a unified strategic IT plan, and jointly facilitate governance around empowerment circles.
Read Bio
It is important to highlight that the College partnered with the Phelps Group, a notable executive search firm in Canada with specialization in both private and public sector institutions, including extensive work within postsecondary education. They are well versed in hiring for a diversity of skills and lived experience, and providing leadership in diversifying workplaces and creating cultures of inclusion. Phelps was tasked by the College with the opportunity to employ a comprehensive outreach strategy that leveraged their national networks and community outreach, as well as the expertise of their research and social media teams to bring forward a broad range of and majority of diverse candidate. Phelps also incorporated best practices using contemporary human resources and other tools to showcase the skills and talents of the candidates ensuring alignment with the current and future needs of Centennial.
The process was deep, robust and approached with care. This enabled Phelps to present a stellar slate of candidates, with Michael, Charmaine, and Stephen being desired leaders who not only have the experience and expertise to deliver on the substantive Transformation strategic mandates associated with the new divisions and portfolios, but also because their values resonated with our activist College orientation and commitment to equity, diversity, inclusion, and Indigenization.
Please take a moment to read about Michael, Charmaine, and Stephen on our College website and join me in wholeheartedly and enthusiastically welcoming our new colleagues to the Centennial community.
Cg
Craig Stephenson
President & CEO, Centennial College
* Please note, another critical role that we are actively recruiting for is the Associate Vice-President, Finance, which will ideally be announced in early fall.