QUESTIONS
P.O. Box 631 Station A
Toronto, ON, M1K 5E9
"We're all in this together": How the CCSAI is helping students find financial relief during COVID-19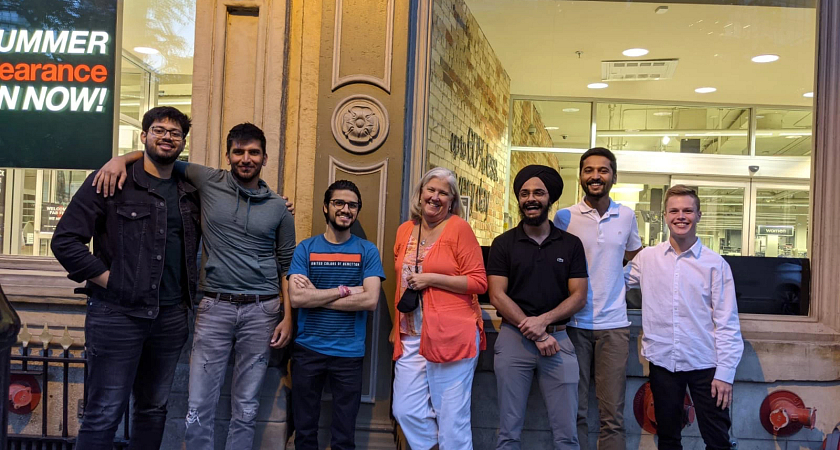 Since he took over the role of President of the Centennial College Student Association (CCSAI) in May, Taranjeet Singh has been working hard to advocate for the school's 22,000 full-time and 19,000 part-time students during the COVID-19 crisis.
That's meant everything from organizing a series of informational webinars to ensuring CCSAI staff at the College's five campuses have everything they need to continue helping students navigate through these challenging times.
It's also meant leading the CCSAI's decision to donate $201,920 in support of Centennial's COVID-19 Relief Bursary Fund, launched in March to support students who have been hit hard by the financial impacts of the pandemic. The unusual amount of the CCSAI's gift is a symbolic nod to the Association's 2019 and 2020 Boards, each of which has played a critical role in advocating for students since the coronavirus began making its way around the world.
"We see our donation not only as a gift but as an investment in students, an investment in the College," says Taranjeet. "And because our funding is partially derived from student fees, it's also reflective of students supporting students. We're all in this together."
The need is great: since late March, 4,684 students have applied for support through the COVID-19 Relief Bursary Fund. Recognizing the urgency of students' financial needs – with many facing job losses, suspended programs and other unforeseen challenges – Taranjeet and the CCSAI's executive team made sure the funds would get to students quickly.
"Many students are in complicated situations," says Taranjeet. "We have thousands of international students who are not eligible for government support, but also many domestic students who are not eligible for one reason or another. So we worked closely with the College to make sure the requirements for requesting and receiving support were as minimal and straightforward as possible."
Community support continues to be urgently needed
But although over $750,000 has already been raised toward the COVID-19 Relief Bursary Fund, the number of students applying for support is outpacing available funding.
Nearly 40% of Centennial students live in priority neighbourhoods, and nearly 30% have dependent children. The College also has the highest number of students in the province requiring OSAP funding to support their studies.
"We have heard from students who are struggling to afford groceries," says Taranjeet.
With so many students facing potentially devastating circumstances as the pandemic carries on, every donation counts. And every dollar is matched one-to-one by Centennial itself, doubling the impact of each gift.
Taranjeet is joining the College in calling on the broader community to keep investing in students' immediate and future well-being by donating to the Fund, which is now processing applications for fall bursaries. Fundraising efforts will continue until the COVID-19 pandemic has been declared over; until then, contributions will be urgently needed on an ongoing basis.
"Giving can change lives," says Taranjeet. "We really need to be here for each other and that means giving if you're able to do so. We are a family. A Canadian family working together to help one another."
Click here to donate today in support of the COVID-19 Relief Bursary Fund. Your gift will be matched dollar for dollar by Centennial College, doubling your impact!