QUESTIONS
P.O. Box 631 Station A
Toronto, ON, M1K 5E9
What happens when you graduate from Fashion Business and Management?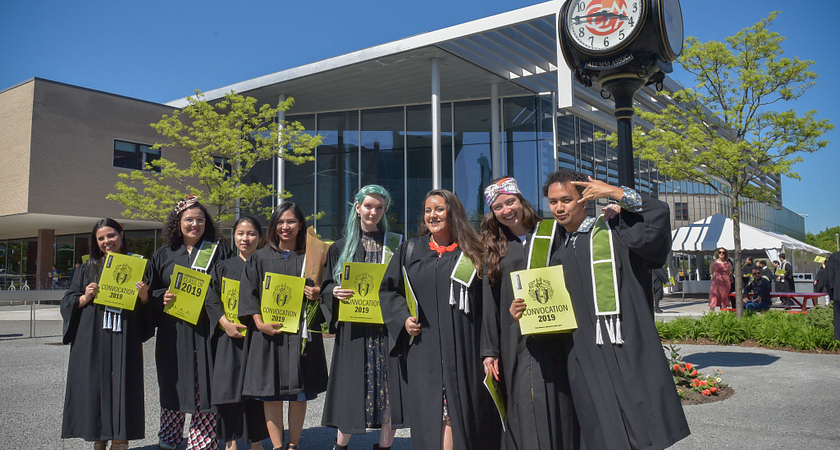 Fashion Business and Management at Centennial College prepares students for a future in the business of fashion. And for the 2019 graduates, that future is here. In Fashion Business and Management, you learn to work in the business behind the outfit you love and learn about the design and development side of clothes, from their creation to their sales, through practical experience and through hands-on field placement.
We've talked to plenty of students of the program before, including Nancy Baltazar and Patricia Feitosa. Now that they've graduated and are making their way into the career field, here's what they have to say about their time in the program.
Their favourite memories of Fashion Business and Management
One way or another, Nancy and Patricia's favourite moments both came down to the connections they made with the people in Fashion Business.
"The friends that I have made here, definitely," Patricia says. "I am going to take them for life. Our professors were really sweet and kind to us, too, and you could see that they actually wanted us to succeed and were giving us the tools for that."
"For me, it would be the field trips," Nancy says, "because it's a great opportunity to have fun with your friends and learn at the same time, so they're really helpful for us."
What's next for their fashion careers?
There are so many different careers in Fashion Business you can get, and Nancy and Patricia both managed to start theirs before they even graduated, and intend to move on to bigger and better things.
"I'm actually really lucky because I'm working in the field already, at a place I admire so much," Patricia says. "I am working at the Toronto Fashion Incubator. It fosters new entrepreneurs and helps them succeed. So, helping people is something that I love to do and being able to do it within fashion is a dream come true."
"Right now I'm working at a millinery [hat] shop," Nancy says, "but further on, I want to start my own brand, and just have a business of my own, so I can use all of the tools I learned at school to do my own thing."
Advice for future students
The common theme of Nancy and Pat's advice to future Fashion Business students is to fully engage with what the program has to offer, including its special projects like designing Business-themed socks and pencil cases to be sold on-campus, presenting their capstone projects before a Dragon's Den-style panel and creating a fashion show about dressing for business success.
"Do as many things as you can, enrol in as many things as possible, and take the projects seriously," Patricia says, "because they are a great fountain of knowledge, and you can get to know real people from the business. We had the opportunity to do projects that were mimicking real life, so take it seriously, and be your own boss. Be your own success."
"Try new things, and try to meet as many people as you can in school," Nancy adds. Just get involved with people not only from your program but from other programs, because that gives you another way to learn."
Looking ahead
Nancy and Patricia both learned a lot in this program and used those skills to jumpstart their careers. Now, it's time to move on, and they're happy with their time in the program.
"I would like to thank everyone for the opportunity of going through this experience," Patricia says. "I would like to thank Pamela Richards, our program coordinator. She is the best, she really helped us, and she was just an angel for us."
In Fashion Business and Management, you learn about all of the different steps of development that clothes go through between the runway to the rack and find a new way to get a career working on the clothes you love. By joining the program, you could become one of the next set of graduates, a career in hand along with your diploma, ready to step out into the world and do what you love.