QUESTIONS
P.O. Box 631 Station A
Toronto, ON, M1K 5E9
What I Like About Myself board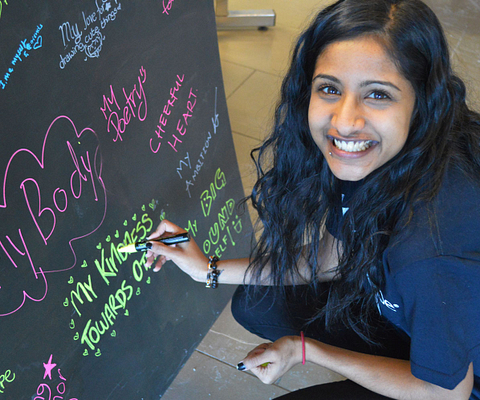 When Nickza Dalas created the What I Like About Myself board in the Ashtonbee Tunnel, her goal was to embrace diversity and inclusion. A second-year student in the Social Service Worker program , Nickza's idea was the winning entry in the Ashtonbee Tunnel Idea Creation Contest. She got the inspiration for the board from a TED Talk video of Candy Chang, who developed the Before I Die chalkboard in New Orleans after Hurricane Katrina to help unite the community.
What I Like About Myself is a chalkboard that stands 4 feet tall and 8 feet wide and is open to anyone who wants to write a positive message in expo marker about, well, what they like about themselves. In hopes of inspiring the Centennial College population, Nickza has demonstrated what she likes about herself by writing "Kindness towards others, drive and stubbornness." on the board.
Nickza first tested this idea in high school, helping boost the self-confidence of her fellow classmates. That mural now permanently resides on the Victoria Park Collegiate Institute walls. In just fifteen short minutes, Nickza brought me back to relive her high school years, where she explained the impact that one of her teachers, Ms. Karthiga Dharmananda had made on her. "She kept telling me that I was a star," she says, "and she eventually made me believe it." Shortly after that conversation, Nickza made the decision to become increasingly involved in student life, becoming the VP of Prom Committee and CEO of a sweatpants entrepreneurial venture. She grew, learned and soaked in all the experiences along the way.
"Without a doubt, Centennial College is one of the most culturally diverse post-secondary institutions in Canada," boasts Nickza. "Our outstanding school represents more than 100 ethno-cultural groups within our four existing campuses." She hopes to utilize the board as a tangible substance to unite the intangible, bringing together a stronger sense of community and embracing diversity at Centennial College. "Centennial College is the most diverse population that I have ever been in," she adds."We all are really different! People can use this board as a wake-up call."
Creating awareness on diversity and inclusion isn't the only thing Nickza hopes to accomplish with the board. The desire to spread positive change through energy is also close to her heart. "It really does work," says Nickza. "The best place to start is in smaller communities. I hope that it will spread outside of our Centennial College community." Feelings of overwhelming joy and happiness hit her when she saw students taking selfies with the colourful board.
This What I Like About Myself board is a unique form of communication, a crucial skill in Nickza's Social Service Worker program. Most of her classes are based around how to effectively talk to people through counselling, probing, open-ended questions etc. "Without communication," she explains, "it would be nearly impossible to reach any sort of goals."
Goals, drive, ambition and a bit of stubbornness positioned Nickza to win the contest. If you haven't already scribed a message on this board, come on down today, Monday March 16th 11:30 AM – 1:30 PM Cafeteria in B Block. We want to hear what you like about yourself!