QUESTIONS
P.O. Box 631 Station A
Toronto, ON, M1K 5E9
Where We're Going: Public Relations Students Create Campaign About Centennial's Future Plans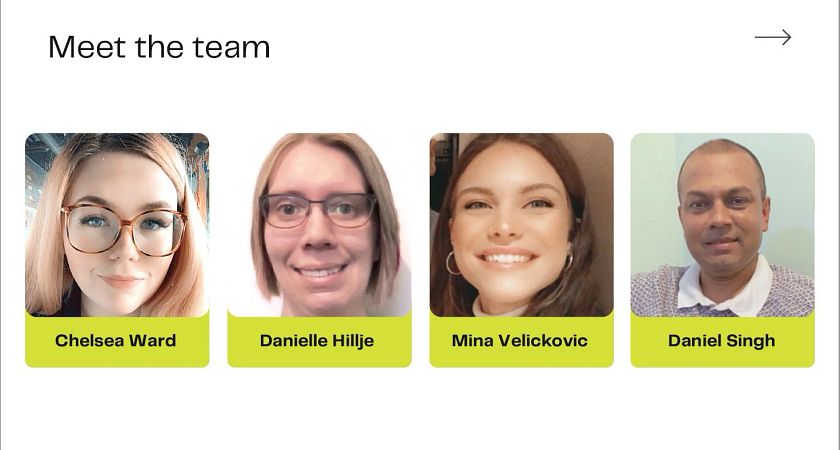 Students are our future, so it makes sense that Centennial College's students help us with our own plans for the future. And because we're also about education through practical experience, they can get some hands-on learning along the way. Mina Velickovic, Daniel Singh, Danielle Hillje and Chelsea Ward are all from our Corporate Communications and Public Relations program, and each took part in a special project through Storyworks, where students in media and arts programs are paired with real-life clients to practice their trade.
In this case, the client was Centennial College itself, which had just created a new Academic Plan for 2021-2025, a "road map" for how the school would continue to give its students a great education in the coming years. They wanted to make sure future students knew about it, which is where this team of Public Relations students came in, eventually creating a social media campaign and contest to share the college's Wildly Important Goals (WIGs).
Roads converging
We're a diverse school, so it makes sense that each member of the project team took a different path to study public relations at Centennial.
"I had actually been in talks with one of my mom's colleagues, her daughter works at Google," Mina says. "She said, I got my first job from my placement from school, which led to me just networking and connecting with people.
"I was living in the British Virgin Islands," says Daniel. "I'm from Guyana, originally. Part of my decision was the fact that two of my daughters were approved for studies at Centennial, as well. I thought I should familiarize myself with the PR industry in Canada."
"I started as a receptionist at a senior's home," says Danielle, who studies remotely from Calgary. "And a lot of their communications came across my desk. The more I got involved with that, the more I wanted to learn about it."
"I graduated from UTSC with an honours BA in journalism in June 2020, and because of the pandemic, I was feeling a bit lost," Chelsea says. "I felt that the corporate communications program was complimentary to my undergrad in journalism, and would give me more avenues to use my communication skills beyond reporting."
Becoming part of the plan
Each year, Storyworks connects real clients with bright students, who use their talents to create solutions, gaining practical learning in the process. In this case, the big problem was making the new Academic Plan visible, especially in light of the previous (2013-2020) college plan being largely unknown. What they needed was a Communications Plan.
"It brought us to Dr. Marilyn Herie, VP Academic and Chief Learning Officer," says Danielle. "She said we had an academic plan that was largely invisible to students. And so it didn't have a lot of impact on the college itself, it didn't have a lot of weight behind it. She wanted to let students know about it, let faculty know about it, let industry partners know about it, so that it could be more influential and actually make a bigger impact."
Putting the plan together
So, how do you put a Communications Plan together? You start by learning what went wrong last time.
"First, we started researching," Chelsea says. "We looked into what the college had done before with its last academic plan for 2013-2020. We wanted to see what tactics had been used to publicize it, and most importantly, how the contents differed from the new one. After that, we met with Dr. Herie to get her perspective on the college's needs as our client. Once we knew what the organization's goals were for the campaign, we were able to determine our communication goals."
And after that? Revise, revise, revise.
"None of us, to my knowledge, have ever made a communications plan before," Mina says. "We had four or five versions of it before we got to the final version. And we definitely started out more complicated – and then every version got simpler and clearer. In the beginning, we were overshooting and complicating things because we wanted to give it our all, but with guidance from our program coordinator, we came to this really clear, simple, comprehensive document."
This was also a chance for all four of them to really use the skills they'd been taught in their classes.
"All of the research analysis and the whole communications process that we studied for other assignments, as well as in class exams, those theoretical principles, communications principles and how to apply them," Daniel says, "This is a real-life scenario, where Centennial College is actually our client, and we're operating like a PR agency."
Challenges and opportunities
"I think the biggest challenge was having to do it all virtually," Chelsea says about the most daunting part of creating the new plan. "Instead of being able to sit in a classroom and work on the project together, we had to meet up and create it remotely. We really had to make sure that we were staying in regular contact and communicating clearly with one another while we were planning."
"Maybe the hardest thing was the amount of freedom we had with the direction we took," Mina adds. "Our creativity kind of went rampant and we had to focus and find a way to bring in everyone's ideas, but be one vision with one theme. So maybe even that level of freedom was difficult."
Spreading the word
In the end, the team created a social media campaign and contest called #WIGoftheweek, running over three weeks and promoting the Wildly Important Goals (WIG) of the new plan across different social media platforms like Twitter.
"At its core, the communications plan was made to get the academic plan in front of students so that they know what it is and how it affects them," Chelsea says. "It highlights two of the plan's #WildlyImportantGoals to give students a taste of what lies within the plan, and encourages them to learn more in order to hold the college accountable to its goals"
"Not only did we want to raise awareness, but we want to raise engagement with the academic plan, as it points to a lot of different resources and action steps that students can take and join," Mina explains. "In doing so, we could bring the community even closer, which is especially important after the past year of COVID. And that's why we landed on the social media campaign, because social media is where our students are found, and it's where they get most of their information."
Presenting the plan
"Presenting was nerve-wracking," Chelsea admits, "Mainly because we had to jump right into the client presentations with only one week of class time to prepare for them after a short break between the winter and summer semesters. However, all of our hard work paid off."
"We ended up presenting it to the Deans," Danielle says, "and then the college's digital marketing team, who we ended up working quite closely with. We did a lot of presentations for this, because everyone apparently really loved what we had come up with, and everyone wanted to share it around, which is what we kind of hoped for."
What they learned and gained
"When it came to Instagram, I can tell you, I don't use Instagram," Daniel says. "It made me recognize the value of working with team members who can fill in the blanks when you can't."
"I've always been a team player, and I've done so many group projects in school, but this time it was different," Chelsea says. "I had to learn how to be an effective teammate to a group of students that I'd never met in person before, and learn how we all worked best remotely. I'm looking forward to putting this in my portfolio and telling future employers about it," she adds.
Some of the team's students are starting their field placements, some are working, and, most importantly, all of them have a complete, approved communications plan that they can use to show off their skills, which makes all of them grateful they joined the program and took on this Storyworks project.
"Do it! There really isn't anything to lose, and so much to gain," Chelsea says. "This program can really help give you a renewed sense of purpose if you love communications, but just feel you've lost the spark or don't know how to monetize your skills."