QUESTIONS
P.O. Box 631 Station A
Toronto, ON, M1K 5E9
WIMTACH Hackathon for Smokebomb Entertainment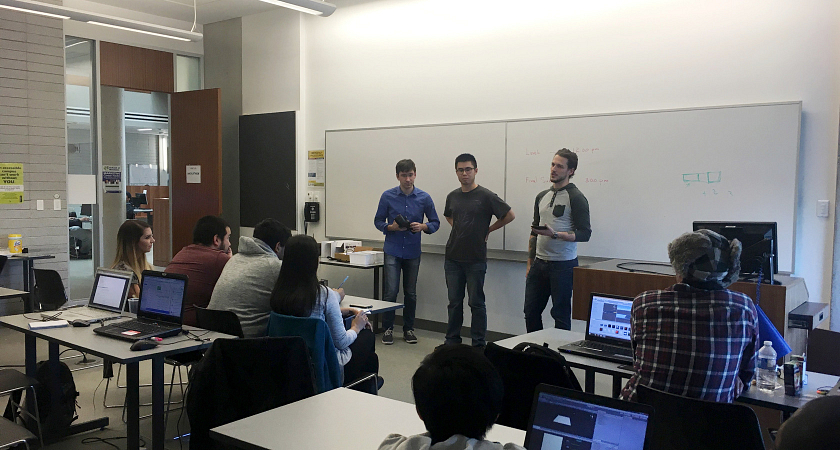 Centennial College hosted a 36-hour programming marathon, or "hackathon," on November 11 and 12 at the college's Wearable, Interactive and Mobile Technology Access Centre in Healthcare (WIMTACH). Fourteen Game – Programming students from Centennial worked in four teams to create games using the Unity platform. Students were guided throughout the process by professors from Software Engineering Technology program.
SmokeBomb Entertainment, an industry partner with WIMTACH, sponsored the event. SmokeBomb is an award-winning digital media production company creating groundbreaking original transmedia projects and engaging convergent extensions for television. Recent projects from SmokeBomb include the award-winning Totally Amp'd – the world's first app series for tweens on iOS – the Emmy-nominated Murdoch Mysteries: The Curse of the Lost Pharaohs web series, the buddy road trip comedy Backpackers, and State of Syn, an innovative transmedia 3D motion comic.
SmokeBomb challenged the students to create immersive and engaging game experiences using Unity game development framework and Virtual Reality devices. Students had a great networking opportunity with industry professionals, including two software developers from SmokeBomb who were on hand throughout the event to assist the teams with expert advice.
The students' solutions were evaluated by a judges' panel of software developers from SmokeBomb, as well as a research team from Centennial's WIMTACH. There was great food and refreshments on both days and all participants were awarded with gift cards.
Here are the winners of our latest hackathon
First place: Ilmir Taychinov, Jacky Zhang and Josh Bender
Second place: Joshua Korovesi, Franco Chong, Jason Pearson and Kevin Luu
Third place: George Savchenko, Elaine Mae Villarino and Angelina Gutierrez
There are more Centennial College hackathons coming up in the new year!