QUESTIONS
P.O. Box 631 Station A
Toronto, ON, M1K 5E9
Women's basketball team named OCAA Team of the Week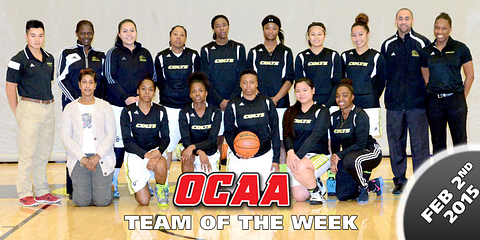 The Centennial College Colts women's basketball team has been named Team of the Week by the Ontario Colleges Athletic Association, thanks to some brilliant playing recently. OCAA Championship host Centennial had not dropped a regular season game in 2015, winning the first four games of the year. The team has dispensed with competing college teams from George Brown, Seneca, Fleming and Durham. The Colts improved to 9-3 with a key 71-69 overtime win over Durham last week. Second-year post player Samantha Reid grabbed 26 rebounds in the win.
Unfortunately, the Colts dropped their first loss of the 2015 season when it visited defending champs Algonquin College in Ottawa on the weekend of Feb. 7. The game did not end as hoped for as the Algonquin Thunder handed Centennial a 63-47 defeat. Despite the loss, the Colts Women's team members remain positive on their post-season outlook. With only three games remaining in the season against Loyalist, Georgian and St. Lawrence colleges, the team is optimistic about making a run in the championships.
Currently, the Colts sit in third place in the East Division and are ranked fifth in the province. Team captain and leader Sam Smith, a previous Women's Basketball Player of the Week, is second overall in ball control stats and seventh in shooting stats. Centennial's next home contest is against Georgian College on Wednesday, February 18. On that night, the Centennial Colts will honour their graduating senior players as part of the celebration. Graduating Seniors from all varsity sports will be presented with a commemorative action poster. The presentation will be made between the men's and women's games. Come join us at the Del Gym at Progress Campus for a great night of basketball!