QUESTIONS
P.O. Box 631 Station A
Toronto, ON, M1K 5E9
World's best female cricket bowler visits Centennial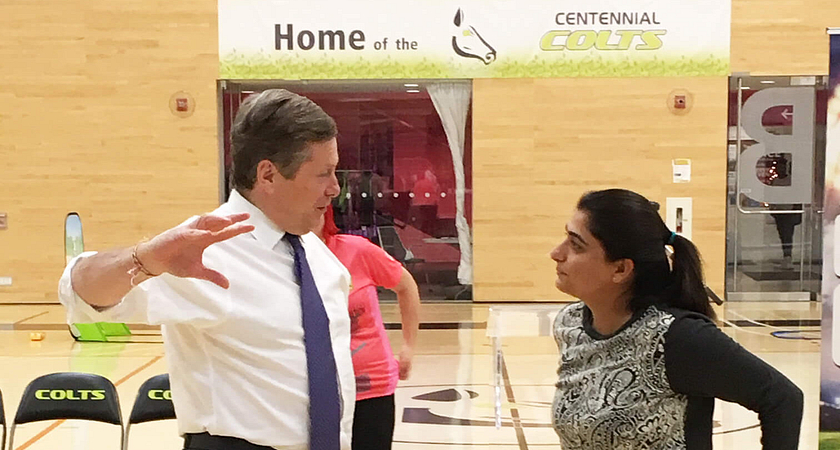 Sana Mir, the first Pakistani woman cricketer to attain the rank of world's best female bowler, visited Centennial's Athletic and Wellness Centre on December 3 to impart some inspiring words to young female athletes attending a cricket workshop.
As a member of Pakistan's Women's National team Mir has amassed a history of firsts, including the first woman to take 100 ODI (One Day International) wickets, and has led her team to two gold medals at the 2010 and 2014 Asian Games. She spoke to more than 100 middle-school girls from the Toronto District School Board about the importance of sport in developing healthy minds as well as athleticism.
"I have to thank the sport of cricket for helping me to become the human I am today," she told her rapt audience, explaining that participation in sport helps children to cope with winning and losing, among other life skills. Mir thanked her hosts for inviting her to Canada at a time when cricket is finding new audiences. "Canada can be a big force in women's cricket."
Toronto Mayor John Tory was on hand to meet Sana Mir and pick up a bat to show he can still swing with the best of them (he played in high school). Mir bowled to His Worship, who swung and missed the first time, but then proceeded to hit every ball – one even striking the rafters of the gymnasium.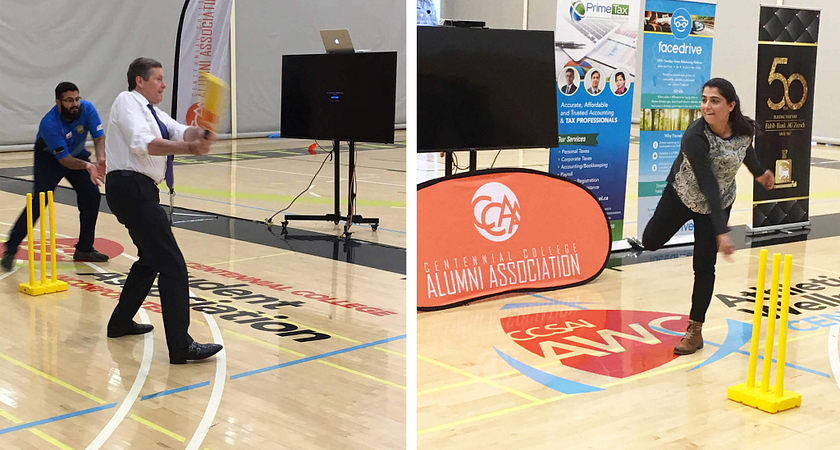 Mayor Tory pointed out cricket enjoys a long history in Toronto, which was first played by English settlers some 200 years ago. He noted the sport has grown in popularity with the many South Asians who have moved into the region. Centennial was chosen as the venue for the workshop partly because of the success of its own cricket team on the college circuit.
Centennial graduate Melvin John, who is president of the Ontario Cricket Association as well as an accomplished musician and entrepreneur, was on hand to introduce Mir and to thank local teachers who have promoted cricket to their students. He called the sport the biggest hidden secret in Ontario, and pledged to see more young women pick up the game, thanks to new support for equipment and free play.
The assembled students spent a good part of the afternoon practicing bowling and hitting balls in the gym and out of the blustery winter weather. The cricket workshop was sponsored by the Multicultural Centre of Excellence and Diversity, Power Play Sports and the Centennial College Alumni Association.