QUESTIONS
P.O. Box 631 Station A
Toronto, ON, M1K 5E9
Apprenticeship Programs
Apprenticeship Programs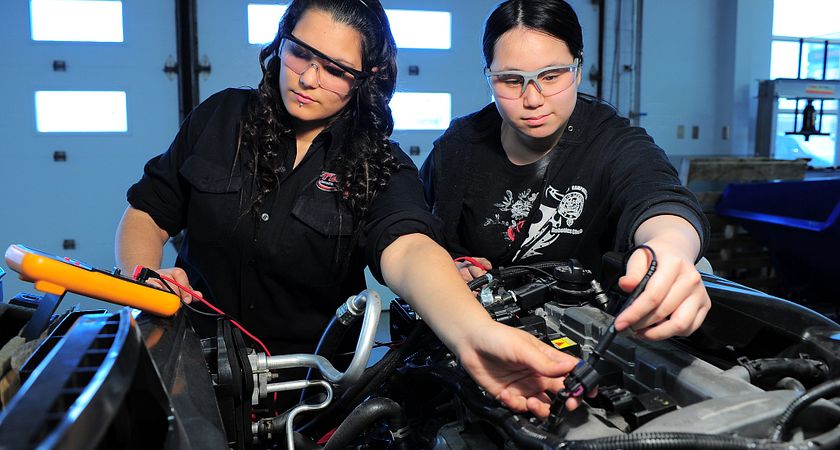 Apprenticeship is a system of learning by doing. It consists of on-the-job training with an employer and related class studies in college. Apprenticeships vary from two to five years, depending on the trade. Centennial apprenticeship programs will prepare you for an exciting future as a skilled professional in the transportation field, one of Canada's largest industries.
We offer traditional apprenticeship training and Modified Apprenticeship Programs (MAPs), with special features for qualified applicants.
An earn while you learn training approach
Professors with extensive, current experience in industry
state-of-the-art facilities at the province's largest transportation training centre
You may qualify for income support while in school through Employment Insurance Canada benefits or training allowance
In-school training is geared to on-the-job experience
At the conclusion of your apprenticeship, you can write the exam for your Certificate of Qualification. Passing the Certificate of Qualification exam means you can qualify for a Certificate of Apprenticeship from the Ministry of Advanced Education & Skills Development, and that you are certified in your chosen occupation.
Please note: You cannot apply directly to the college for admission to a traditional apprenticeship. You must first be currently employed as an apprentice.
Programs
Engineering - Traditional Apprenticeships
Electrician, Construction Maintenance
Refrigeration & Air Conditioning Systems Mechanic
Child and Community Services
Transportation
Traditional Apprenticeships
Autobody Repairer
Automotive Service Technician
Heavy Duty Equipment Technician
Motorcycle Technician
Truck and Coach Technician
Parts Technician
Power Lift Truck Technician
Truck-trailer Service Technician

Modified Apprenticeships
Canadian Tire
Ford Motor Company of Canada Limited
General Motors of Canada
Honda Canada Inc.
Toyota Canada
Truck and Coach Technician (ATS)
Truck and Coach Technician (Volvo/Mack Canada)
Ashtonbee Campus programs
For more information about the in-school portion of apprenticeship training, please call Indira Singh, Liaison and Student Recruitment Officer, from the School of Transportation Department at 416-289-5004 or email
isingh@centennialcollege.ca
Progress Campus programs
For more information about the in-school portion of apprenticeship training, please call 416-289-5000, ext. 2356 or contact us by email at trades@centennialcollege.ca