QUESTIONS
P.O. Box 631 Station A
Toronto, ON, M1K 5E9
Bring IT
Bring IT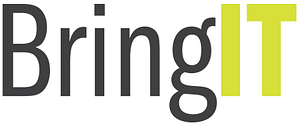 A number of Centennial College programs are now part of the Bring IT initiative, which integrates mobile devices and web-based technologies in the classroom to transform teaching and learning. In the fall 2020 semester, device use will be implemented in the delivery of many more programs. This will ensure students are learning to use the latest technologies relevant to their future workplaces and career.
If your program is participating in Bring IT, you will be required to have and use your own mobile computing device, which meets hardware requirements unique to program-specific software and curriculum, as well as a webcam (built-in or USB), and regular access to a computer with an internet connection. High-speed broadband access (LAN, Cable or DSL) with a minimum 10mbps download speed is highly recommended. Some courses have more advanced system requirements.
Whether your program's mobile computing device is a laptop, tablet or smartphone, Bring IT will enhance your learning experience, increase your confidence, and foster better interaction with your peers and instructors. It will also make you less dependent on computer lab space by giving you convenient access to software, tools and library resources to support on- or off-campus learning.
Take a moment to learn more as we answer your most anticipated questions.
Students with Accessibility Needs: If you require accommodation for a documented disability, please consider your adaptive technology needs when you select a device for your BringIT programs,(click for recommendations). If you wish to access disability services, please make an appointment with the Centre for Accessible Learning and Counselling Services, by calling 416-289-5000, ext. 3850, or by email at calcs@centennialcollege.ca.
Visit the BringIT section on your program page to view your program's technology requirement details.