Questions
P.O. Box 631 Station A
Toronto, ON, M1K 5E9
Congratulations to Andrea Nelson for the 2015 Board of Governor's Award Winner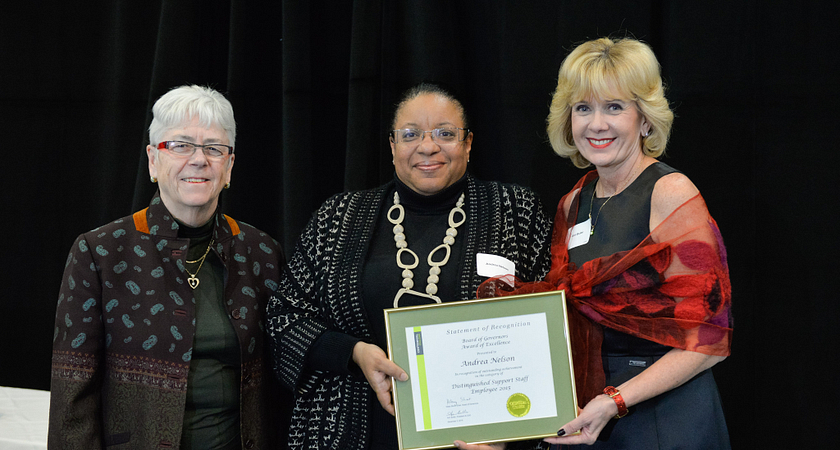 The Boards of Governors selected the Distinguished Support Staff Award which is an award that honours an individual whose efforts has consistently demonstrated dedicated performance and outstanding commitment to the College. On December 3, 2015, Andrea Nelson, was presented the award. Andrea is a former Scheduler of the English and General Education Department and is now currently in the position of Academic Quality Assurance Officer in the Centre for Academic Quality at Centennial College.
Andrea joined Centennial's Continuing Education division in 1989 and has also worked in the School of Advancement. Keenly attentive to detail, her vast knowledge of our programs and personnel enables her to work proactively to ensure that the College is operating at its very best. Though Andrea has taken on a variety of challenging roles, she consistently demonstrates great compassion and patience as she serves our students and the greater Centennial community. Andrea's professionalism, knowledge and enthusiasm for her work make her a most deserving recipient.
Andrea Nelson thanked everyone who nominated her for the award and the acknowledgement that was provided that night. Congratulations to Andrea for all the work that she provided to the English and General Education Department of the School of Advancement.