Questions
P.O. Box 631 Station A
Toronto, ON, M1K 5E9
Karen Hill's Retirement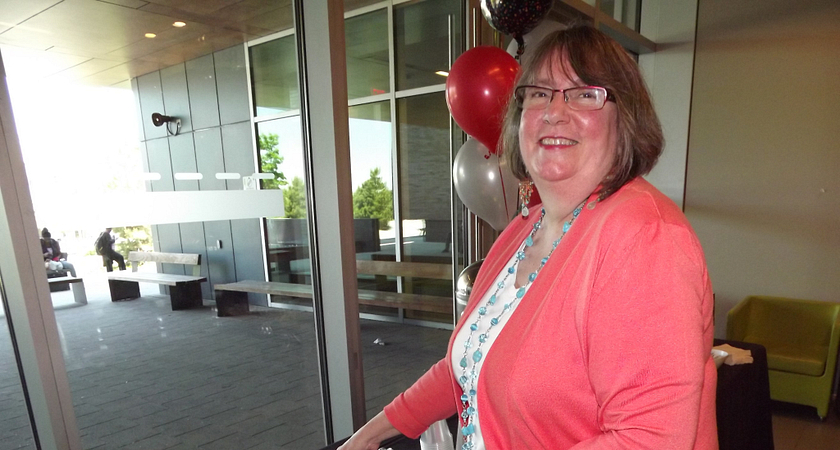 After 35 dedicated years of teaching English, Karen Hill retired from Centennial College on June 17, 2016, and the celebration was held at the Fireside Gallery at the Progress Campus Library Building.
Karen began her career in the Continuing Education Department in 1981, and joined the English Department in 1983, teaching at Warden Woods campus. She worked in government sponsored ESL at East York campus from 1987 to 1992. From 1993 to 1995, she led a series of language projects outside the college for Citizenship and Immigration Canada. In 1996, she was seconded to teach externally to the Ontario College Writing Exemplars project. She moved to Morningside campus when it opened in 2004, and has spent the remainder of her career there, most recently as a course lead and coordinator in English. Over the years, Karen has worked on every campus one satellite location.
Karen reached out to many people in her life, and many of these people provided tributes to her which include Denvil Buchanan, Shawn Brake, Sarah Duffy, David McCarthy and David Kent. Throughout Karen's career, she saw many changes regarding the student population and also saw changes reflected in the academic curriculum that was taught to the students. Karen ended her speech with a touching memorable statement that she had, "the privilege of touching the lives of students."
Karen provided many social and academic contributions in her career to the college and students. She will be greatly be missed by the English Department.