Questions
P.O Box 631 Station A
Toronto, ON, M1K 5E9
Electrician Pre-apprenticeship Program
Electrician Pre-apprenticeship Program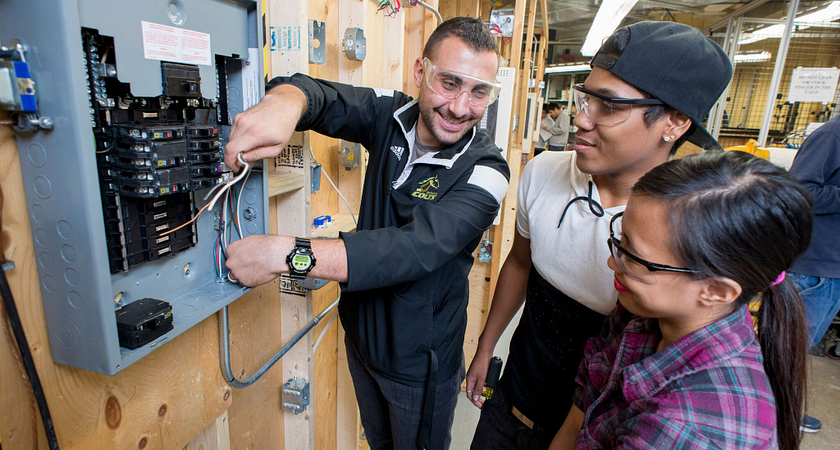 Program Details
School:
School of Engineering Technology and Applied Science
Start Date:
Summer
Location:
Progress Campus
Program Length:
17 Weeks
Email:
elec.preapp@centennialcollege.ca
Tel:
416-289-5000, ext. 2188
Program Code:
4511
Program Overview
Get a head start on an electrician apprenticeship career through our pre-apprenticeship program in electrical construction and maintenance with an overview of refrigeration and air conditioning. Our tuition-free program includes skills training and assistance finding a work placement with an employer. Course materials, including textbooks, safety equipment and toolkits, are provided free of cost (administration and ancillary fees may apply). This is your opportunity to join a rewarding skilled trade!
Program includes:
Workplace communication skills targeted to these trades
Industry-specific job readiness skills
Assistance to search for a paid work placement
Safety training, sought out by industry employers will also be provided:
First Aid
Working at Heights
WHMIS
Program Schedule
17 weeks of in-school training followed by up to 8 weeks on the job.
Training:
17 weeks between May 4, 2020 to August 28, 2020.
Work Placement:
Up to 8 weeks between August 31, 2020 to December 15, 2020.
Apprenticeship Training Programs
Primary:
Electrician: Construction and Maintenance (309A), Level 1 – First 8 weeks
Secondary (overview):
Refrigeration and Air Conditioning Systems Mechanic (313A) – Next 2 weeks
Courses
Weeks 1–7
Weeks 8–15
Electrical Training 1
Canadian Electrical Code 1
Prints 1
Electrical Theory 1
Installation Method 1
Instrumentation 1
Electronics 1
Weeks 16–17
Refrigeration and Air Conditioning Training
Admission Requirements
Completion of: Ontario Secondary School Diploma (OSSD), General Education Development (GED) or equivalent
Eligible to work in Canada
Benefits
Gain valuable skills based on Level 1 Electrical Apprenticeship for Construction and Maintenance
Access to state of the art labs for experiential learning
Course materials, including textbooks, safety equipment and toolkits provided free of cost
Access to Centennial College resources, including the Centre for Accessible Learning and Counselling Services (CALCS) and library.
Administration and ancillary fees may apply
Completion of this training may increase your chances of being hired
Career Outlook
Residential Service Electrician (Trade 309A)
Commercial Electrician (Trade 309A)
Journeyperson Electrician
Maintenance Electrician
Areas of Employment
Service
Installation
Repairs
How to Apply
Applicants may be asked to write an assessment test facilitated by Centennial College
Applicants may be asked to attend an interview (by invite only, based on assessment results)
Deadline to apply: Friday, March 20, 2020
Please email elec.preapp@centennialcollege.ca
Funded by Ontario