From Pre-Health Studies to the World of Nursing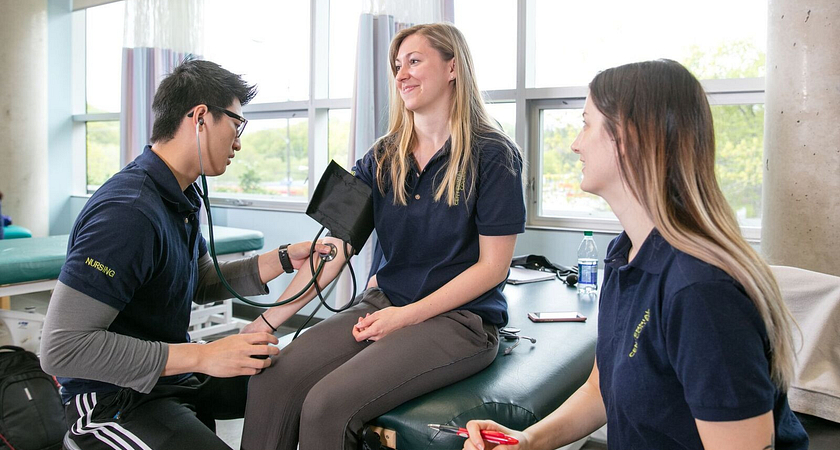 A strong foundation is essential, no matter your career path. Through Centennial College's Pre-Health Sciences Pathway to Certificates and Diplomas program, you can gain the knowledge you need to apply to a variety of programs by taking courses such as biology, chemistry, mathematics and communications. That foundational know-how can open doors to Healthcare Environmental Services Management, Fitness and Health Promotion, Nutrition and Food Service Management, Massage Therapy, Esthetician, and Food Service Worker programs. One of the most popular programs students pursue after completing the pre-health program is Practical Nursing.
What's interesting about that is the field of nursing itself offers a range of possibilities. The practice, which according to the National Women's History Museum, is one of the oldest in the world, has greatly evolved over the years. Everything from the stark-white dress uniform with the cap of yesteryear to the fact that men are entering the profession has changed. Another change has been the roles nurses play in providing care. No longer are they limited to bedside care and bandage changes. Check out some of the roles nurses take on in 2019.
Educators
As primary caregivers to a wide range of patients, nurses are often the go-to people for patients and families wanting to learn more about the condition afflicting the patient and its treatment. As such, nurses are constantly striving to enhance patient care but providing the necessary information. This educator role also translates to teaching new nurses about best practices for particular settings and the clinical team in general about a wide range of topics such as patient safety. On an even wider scale, nurses often have a leading role in sharing their knowledge with community partners, at conferences and global events.
Scientists
Hospitals at which nurses are employed may sometimes be research hospitals. This means the hospital provides care for the most rare and complex conditions, teaches future health care providers and moves research results into practice. For example, for many of the nurses in Toronto's SickKids hospital, pediatric pain and symptom management is an area of research. According to SickKids, "By studying the effects of pain on children with various medical conditions, nurse-scientists not only enhance clinicians' understanding of the impact of pain in children, but are also able to develop strategies to improve its management."
Informatics and Technology Experts
One of the biggest advancements of health care in general has been in technology. Today, it is a central part of every health professionals' job, including nurses who program IV pumps and use computer applications to chart patient care, among other things. Nurses' position as health care providers gives them a unique vantage point of both patient and clinician needs and that allows them to easily identify the technological needs of the health care team — including technological needs. It's only natural then that nurses are able to contribute to a leading role in the design, training and implementation of new technologies and medical devices.
Resources
https://www.centennialcollege.ca/programs-courses/full-time/pre-health/
http://www.sickkids.ca/AboutSickKids/Newsroom/Past-News/2012/evolution-of-evolution-of-nursing.html
https://www.nurse.com/blog/2013/08/22/the-evolution-of-nursing-then-and-now/
https://www.womenshistory.org/articles/evolution-nursing
By: Izabela Szydlo