A Radio Voice Reaches into the Community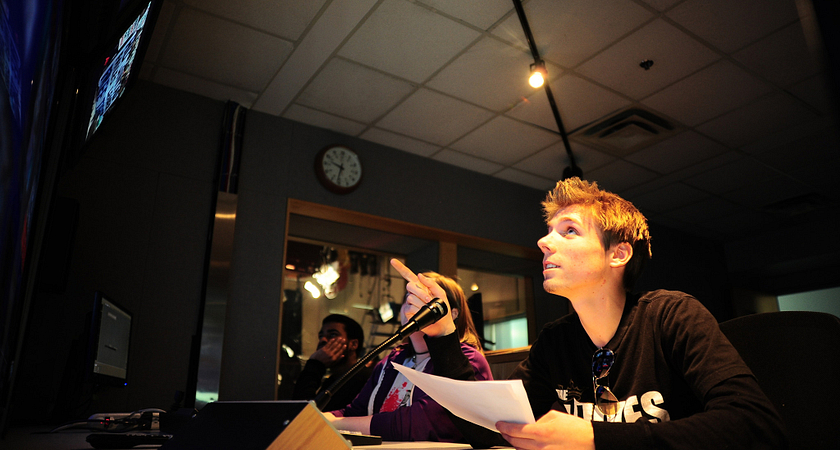 By Leanna Rizzi
Ask Carlos Benevides what led him to a career in radio and he'll tell you it was the path he was always supposed to be on. By studying Broadcasting and Film at Centennial College, Benevides, now the morning show host at Kitchener's 91.5 The Beat, was able to pursue his true calling.
"Being a radio announcer was always my dream job," Benevides says. "It's what I've wanted to do since I was a kid growing up."
Although he periodically deviated from radio over the years, he has always been lured back to his true passion and first love. He spent four years at Carleton University studying psychology and English, but he never lost sight of his goal to work in radio. When the timing was right, he left Ottawa to apply to Centennial's Broadcasting and Film program in 1995.
"Centennial's reputation is excellent and it was definitely the best school for me," Benevides says, crediting Centennial's emphasis on hands-on learning with its four-month field placement program as the biggest selling point. "Learning about the industry first, and then going into the field to really learn something about the profession hands-on, and maybe get a job out of it, was really important to me."
In addition to the program's field placement, Benevides was impressed with the college's use of the latest equipment and technology.
Although a favourite professor of his, Ken Cassavoy, had left before Benevides graduated from the program, he still considers Cassavoy to be a major inspiration in his career in radio. "Ken taught the majority of the radio broadcasting courses and taught me things that I still use today," Benevides says emphatically.
Benevides also had an interest in film and television, and appreciated the attention that Centennial's program gave to all three broadcasting mediums. He even did his field placement at a film company, Mbz Productions, instead of at a radio station. However, he soon began to miss his first love.
"It was a good experience working outside of radio first, and I'm glad I started that way. I learned it is important to always do something that speaks to you," he says.
In August 1998, Benevides found a job at Toronto radio station The Edge 102.1, just two months after graduating from Centennial. Six months later, he took hold of the microphone on the overnight shift. Benevides eventually landed a morning spot on The Beat Breakfast with Kitchener's 91.5 The Beat.
This past November, it became apparent that radio wasn't Benevides' only passion.
"At Centennial, we were taught to always have a positive attitude and to work as hard as you could. Have a great attitude and you'll get far." Benevides heeded that advice and took on a personal challenge inspired by a New York radio DJ to complete "30 Deeds in 30 Days."
In the spirit of the holiday season, Benevides visited a different community organization in the Kitchener-Waterloo region each day for a month to raise awareness of community services and volunteerism.
From serving up hot meals at St. John's Kitchen, mulching trees for Evergreen, sorting donations at the Marillac Place shelter, and to spending some quality time with seniors who have no families at the KW Lions Club, Benevides cheerfully worked with each organization in whatever capacity was asked of him.
"My goal was a call to action, to show that it's easy to donate your time – even if it is just an hour a week," Benevides says. "As a public figure, it is important to give back and to be a leader by motivating and inspiring others to do the same."
Benevides documented all 30 of his experiences on his blog and spoke about them on his 91.5 morning show with Carlos, Sophie & Dave. "This is why I do radio. I get to speak about my amazing experiences and also influence listeners to do the same. I am so fortunate I was able to do all this"
In recognition of his dedication to this unique project, Benevides recently received The Care It Forward Award from the United Way of Kitchener-Waterloo & Area. When asked if he will do it all again next year, Benevides declared without hesitation, "Definitely!"
Leanna Rizzi is a student in Centennial College's Corporate Communications and Public Relations graduate certificate program.