Centennial Grad at The Grammys - Mark Bullock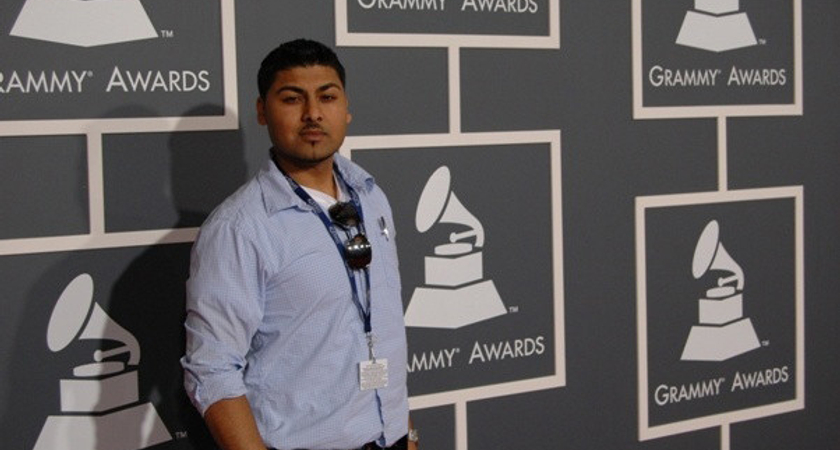 By Paul Koidis
Walking the red carpet in LA, in preparation for music's biggest night, The Grammy Awards, with the likes of Lady Gaga, Bob Dylan, Cee-Lo, Ryan Seacreast and Beyonce, would be the thrill of a lifetime for most people.
But for Mark Bullock, Centennial College graduate and now part of the ET Canada production team, at Global TV, it's just another day at the office.
"I've met many celebrities from Adam Lambert to Tom Cruise," Bullock says. "I am a huge fan of media and I loved watching movies and TV shows and listening to music. I wanted to be a part of that world, like many people do."
Bullock, who graduated from Centennial College's Broadcasting and Film program in 2009, is now a full-time employee of the ET Canada TV production crew, an exciting career which takes him to many exclusive entertainment industry events from The Grammy's to The Toronto International Film Festival to the JUNO Awards.
At The Grammys
Adam Lambert and MTV's John Norris at pre-Grammy events
The Grammy's is the world's largest and most recognized music industry event attracting millions of viewers. Bullock's role this year was in helping to produce the annual ET Canada Red Carpet Pre-Grammy Special, with hosts Rick Campanelli and Cheryl Hickey, two well-known TV personalities in Canada.
This year, the Grammys attracted iconic players in the music industry including everyone from Mick Jagger, to Neil Young, to Barbara Streisand, and included many pre-televised events, such as the Social Media Rock Star Summit, featuring the creator of Foursquare, Pandora, a senior executive from Facebook, Grammy-nominated artist Adam Lambert and MTV's John Norris.
Bullock's rise to the top began soon after graduating from Centennial College powered by the right skills and a winning attitude.
"My first big break was my first day as an intern," Bullock says. "In my eyes, I had started on the top floor of entertainment and I needed to stay there. I had an opportunity that not many people get…to learn from top professionals and help put on a television for a national audience. I wasn't sitting in a room filing papers, I was in a studio pulling cables, learning camera and practicing to get it right."
"It was fun and It was my dream," Bullock says.
So, what's life like for someone working a dream job? A typical day for Bullock usually starts at 8 a.m., where he arrives to work, checks on the talent to ensure they are in make-up and ready to go. He then prepares audio microphones for the talent, faxing microphones back and forth with audio department. It's also around this time that he receives his 'rundown' for the show and can prepare for taping. Then the crew starts rolling, and as Floor Manager, he makes sure that camera and lighting staff are ready to start. They day usually wraps in mid-afternoon and if sure to be full of excitement and surprises.
Lady Gaga Enters the Red Carpet in the infamous glass egg
But above all, it's about keeping your cool and ego in check.
"The most important thing that people should know about the television industry is sometimes your biggest obstacle in this industry is yourself, your ego," Bullock says.
"You need to learn to leave your ego at the door and become an open and positive person to your surroundings. No one wants to work with your ego, trust me. Attitude can make or break your career and people in television study emotions, they know when your heart isn't into it." 
Best Advice: LOVE What You Do
Bullock suggests, even though his career so far has been short it has had many highlights.
"Almost every day I get blessed with another highlight, but my biggest though would have to be the Grammy Awards," Bullock says. "It's such a compliment to have your peers trust in you to get the job done. The Grammys are iconic in our industry for being the biggest in all musical award shows. Stars from all over the world, all walks of life meet for one night to honour music and I get to be there."
Bullock points to his time at Centennial College as an important step on his career path and reaching his dreams.
"Centennial College has helped so much with my career and it continues to help shape this dream. My time at Centennial gave me the proper tools and knowledge to overcome many obstacles with the up-to-date training I needed to understand television production. It gave me my first experience with live television and it was also my first award show in which I had ever participated," Bullock says.
But most important, Centennial College gave Bullock the inspiration he needed.
"I met many great professors in my Centennial days as well, who taught me with a passion that was infectious and that passion is what the future needs."
And his advice for anyone with aspirations to work in TV?
"If I could give anyone just starting out in this field advice, I would say love what you do. When you love your job your career can only get stronger, you'll be putting more effort in without even noticing."