From humble to haute in a hurry: Centennial grad's fashion magazine - Plaid Magazine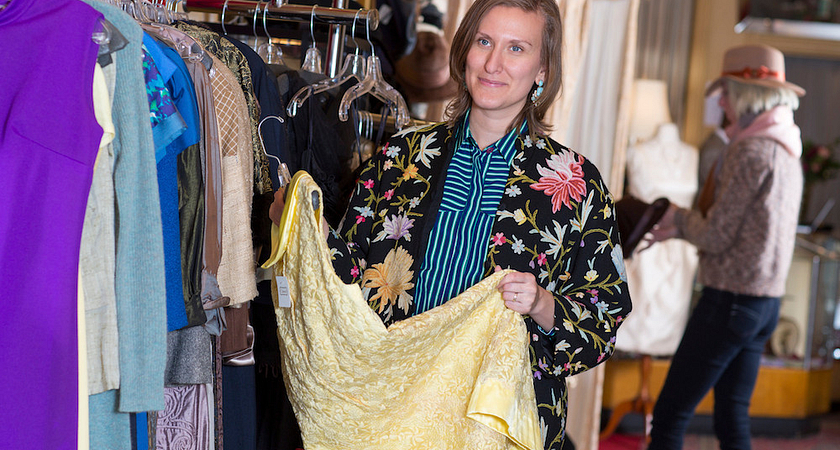 By: Sarah El-Riffaey
Pride. It's the feeling James Harrison had when he saw Plaid Magazine on a Chapters shelf for the first time.
"Wow, we're a real magazine," he remembers thinking that day. "That for me was big."
Getting to that milestone involved a lot of hard work. Producing a magazine featuring quality editorial content, beautiful design elements and a strong Canadian voice is challenging, but Harrison and partner Odessa Paloma Parker have managed to do all of this, quickly and with success. Plaid Magazine — a self-defined "multi-media resource for style culture" — is their brainchild.
Featuring cool people in our pages and online is what we love.
—Odessa Paloma Parker
Beginning with a web-based model in the fall of 2010, Plaid was born out of a desire to create something Harrison and Parker saw was missing: a platform to feature emerging Canadian talent. Feeling that average popular fashion magazines alienated their readers, Parker and Harrison were determined that Plaid would offer the opposite of those "aspirational" pages.
"I've ... never felt like many mainstream (Canadian) magazines spoke to me," says Parker. "(They) feature fashion I can't afford to wear or are too edgy and strange."
When they were ready to get to work, Parker, a graduate of Centennial College's Book and Magazine Publishing program, says she was prepared for all the challenges of starting a magazine.
"I learned about every aspect of the industry, from design to sales, which was very beneficial because I have a hand in all of these facets of Plaid's operations," she says.
The print version launched with a Spring/Summer issue in 2011 and grew quickly. Online weekly updates turned into daily updates and the magazine became available at local retailers, eventually finding its way onto the shelves of retailers like Chapters, Indigo and Book City.
"It went faster than we expected initially (and) the reaction that we got was really positive," Harrison says. "We thought we'd be online for a couple of years before printing copies."
One reason for their surprise may be the success of their "no-budget solutions" when it came to marketing. Twitter and Facebook played a large role in getting the word out about the new publication, and the social media sites still fuel most of their advertising efforts today.
"This allows other blogs to pick us up and write about us, which is the best kind of press you can get," Harrison says.
But the magazine's marketing goes beyond the realm of social media and into the realm of the just social. When launching a new edition, Plaid gets on board with local artists and events, which, Harrison says, helps readership grow and exposes the magazine to a broader audience.
Since 2010, Harrison and Parker have settled into their respective roles, his being broadly defined as managing editor while she claims the position of editorial director/fashion editor. Narrow job titles may apply more strictly to a large publication, Plaid employees are not confined to theirs, Harrision says. The administrative work, including managing distribution, is done by him, he explains. He also designed the website and the logo, and frequently does illustrations for the pages of the print magazine.
"If something needs to be done, I do it," says Harrision, who is also co-ordinator of Centennial College's Communications and Media Foundations program at the Centre for Creative Communications in Toronto.
Parker is Plaid's only full-time employee, having found it impossible to keep another job while doing all the editorial work, writing much of the content, managing contributors, and dealing with PR and marketing firms. With a background in fashion styling, Parker also styles some of the shoots.
Parker and Harrison are proud of what they've achieved in such a short time, but they say they're not prepared to sit still. They have their sights set on bigger things.
"Featuring cool people in our pages and online [is what we love], so working with artists that use fashion in an interesting way, like Azari & III, is always a goal for us," says Parker.
Spreading Plaid's reach across the country is something Harrison says they're trying to concentrate on. Eventually moving into key fashion cities in the U.S. is a possibility, he adds.
"It's fun to be able to do creative things and work with creative people," Harrison says. "It's nice to have a product that you can say you produced yourself. It's kind of weird to go into Chapters and see that that's what we did, and it's across the country, and people we don't know are reading it.
"We basically said we could sit and watch Lost or something, but instead we made something."