School displays student work on various media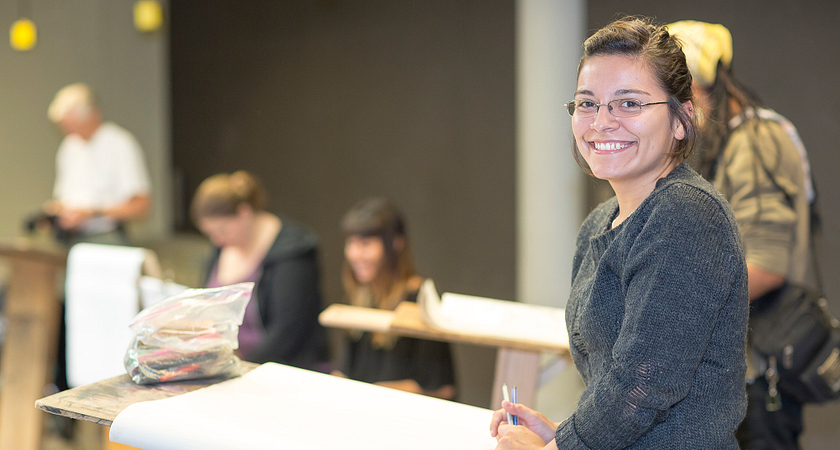 Student works are not limited to assignments at the School of Communications, Media and Design at Centennial College. The artwork is displayed in public spaces, while publications and news reports are published online and in print. Each program teaches practical hands-on skills, helping students to create their works and be able to distribute them.
Fine Arts Studio students create drawings, paintings and sculptures. Their artwork is displayed in professional-quality exhibition galleries within the Story Arts Centre. Graduates have showcased their work at the Artscape Triangle Gallery for the Emerging Artists Exhibition. Similarly, the Graphic Design program offers students space on campus for their artwork and opportunities in Toronto's art community to display their creativity. First and second-year students have been holding the Works-In-Progress show in the Corridor Gallery at the Story Arts Centre. Past external exhibitions include the Works Graduate Show in the Community Gallery at Artscape Wychwood Barns.
The Book and Magazine Publishing program engages its students in publication with a biannual magazine called On the Danforth. It is distributed in the local community near Story Arts Centre and during the Taste of Danforth food festival. Similarly, the newsmagazine TV show, The Journal, airs on YouTube, produced by fourth-year Journalism students. Journalism students also get to practice their research, writing and reporting with The Observer, an online news site with three editions, one for Toronto, East York, and Scarborough.
Students in various programs, including Broadcasting + Film, Journalism, Advertising, Digital Animation, and Art & Foundation Studies, join forces to produce film, video, and audio works in the Centennial on Demand website. Services like the Centennial Internet Radio and Centennial TV are made possible by the hard work of students, not only from their assignments but through their extra-curricular activities in producing quality content for their school community and the city of Toronto.