Students in different creative disciplines collaborate for Project Fusion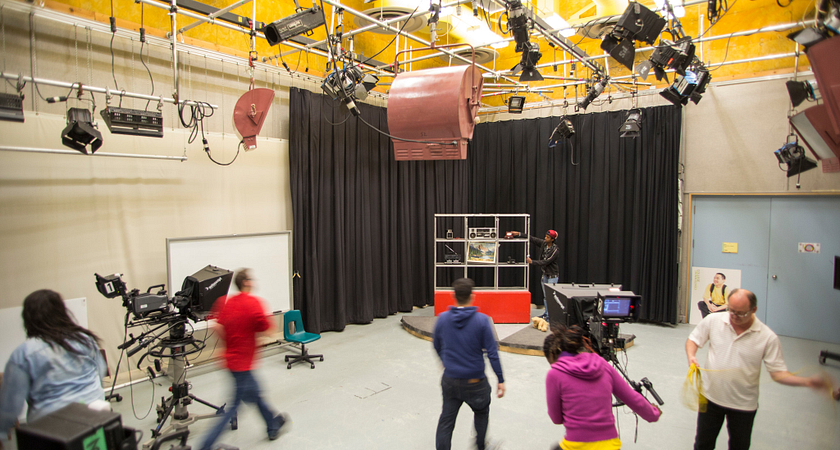 Centennial's pride in its diverse culture and global citizenship spreads at the Story Arts Centre as students from various programs at the School of Communications, Media and Design (SCMD) collaborate on a project. This voluntary initiative invites all SCMD students to enhance their community through Project Fusion.
Project Fusion started in September 2012 as an idea which launched on January 10, 2013, with the 10.10.10 initiative, where 10 groups of students will have 10 days starting on January 10th to make a proposal. The first project is about the challenges and solutions of GTA's social problem in the transit system. The winning proposal is The 'Big Race' YouTube series: a game of social justice and public transit in the GTA. The purpose of this project is to raise awareness within the community about the challenges of getting around the city, from congestion to transit signage to commuter issues. The goals are to improve accessibility, access to employment, and congestion, and especially targeted to lower-income neighbourhoods.
First episode participants consisted of community advocate Dave Meslin who usually bikes and take the TTC; Centennial student Kendell Duthie, pregnant and a mother of one, who is used to New York and London's massive transit system; and Civic Action Alliance CEO and now current MPP Mitzie Hunter who frequently uses the subway to attend meetings. They all start from different parts of the city but their final destination is at Union Station, a large and busy interchange of all sorts of transportation. The Big Race is similar to the popular reality TV series, the Amazing Race but with a spin on social action. The series premieres on April 17, 2013, followed by new 4-minute episodes each week.
The students filmed and marketed their show, in partnership with Metrolinx and the Greater Toronto CivicAction Alliance. It was also featured in the Corporate Communications & Public Relations program blog to help promote the online series. Media outlets like CBC News and City News caught on the trend and word spread fast about Centennial's exciting race. The Toronto Star and the Globe and Mail highlighted the initiative, helping with the awareness campaign.