Four ways we teach digital advertising differently at Centennial College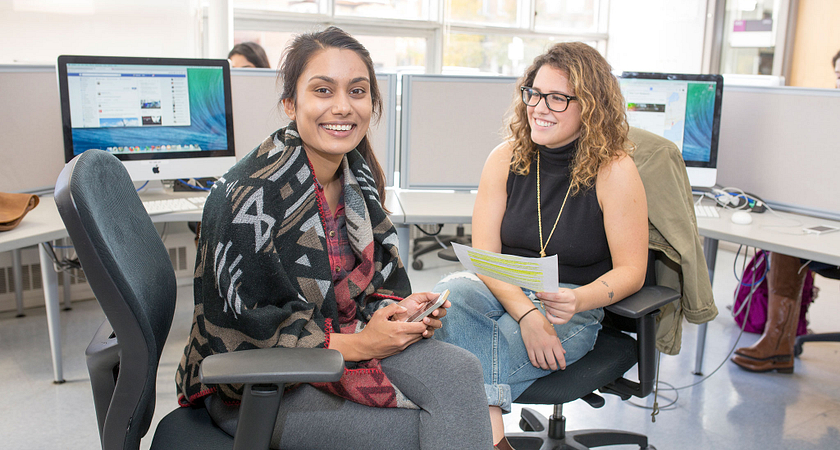 At Centennial College, we're always looking for new ways to connect you to a career. That's why we change, upgrade and add programs regularly. Starting in the Fall of 2016, we'll be unveiling our new Advertising – Creative and Digital Strategy program, run by the School of Communications, Media and Design. This unique digital advertising program blends business and technology, and teaches you the hows and whys of digital marketing. Here's what makes it unique.
1. It's a career in need of new talent
Centennial College created this program with a panel of advertising industry experts, who saw it as specifically addressing a digital and strategic skills shortage in the marketing field. Specifically, professionals would understand design, but would be unskilled when it came to conceptual work or high-end strategy. The program's development addressed this, and its curriculum aims to teach these skills to students.
2. We'll give you practical experience
While creative and digital strategy involves the creation of media, another large component of it is understanding how and why you're creating it, the big picture of advertising. Essentially, what's the goal of what's being created? It can be to raise awareness, generate leads, or something else. That thinking is an essential foundation of the program.
3. We know the trends, and can teach them
We return again to the fact that the school created the program along with advertising industry experts, who both supervise and teach the program. They know the current digital and mobile trends of the marketing world, and can teach them to students. On the technical side of things, asking the experts themselves, like David Nourse. David has worked in the marketing field for 18 years, and was involved in setting up the new program, based on what he personally saw as a need in the field of advertising.
On the technical side of things, if you have a basic understanding of Adobe, you're good to go. You'll also be taught how to use digital analysis tools like Sysomos and Radiant 6, perfect for analyzing how an ad is received, and figuring out who your audience is. Meanwhile, you'll gain access to publications like Communication Arts and Ad Week, to help you understand the thinking and stories behind the advertising world.
4. We'll help you make career connections.
Because of what you learn in the program, you're uniquely qualified to take on a variety of different roles in the advertising industry. You could be a technical lead, be in charge of the user experience, work in the social media space, be a manager or a strategist. The choice is yours, and the program is well-connected to the digital advertising world of Toronto, and can help you find connections and placements in the industry.
By Anthony Geremia