Four reasons for sports fans to take Sports Journalism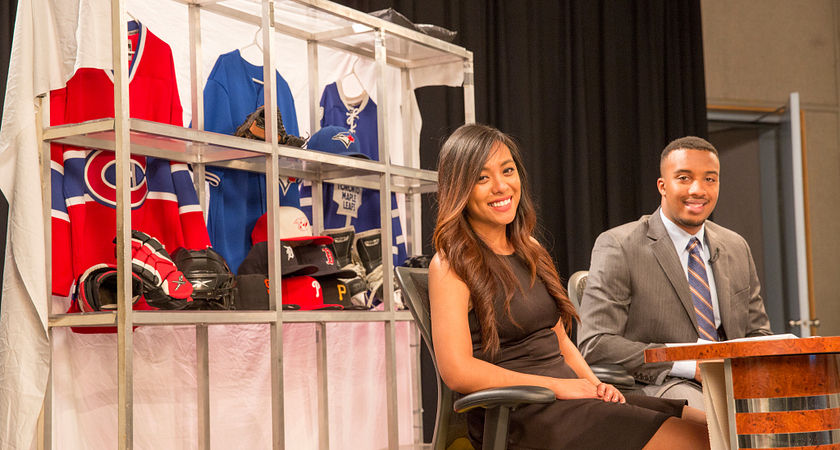 Are you more than just a Leafs or Raptors fan? Do you know the stats of every player, the nuances of the sports business, and are you a fountain of trivia? If you want a career reporting on the industry, Sports Journalism is for you. An intensive one-year graduate program taught over three semesters, Centennial College's Sports Journalism program prepares students to enter the world of Sports Media. Here's what makes the program special:
1. It's for experienced learners only
One of the admission requirements for the program is that you have already completed a college or university degree. For example, you can complete one of Centennial College's standard journalism programs before moving on up to Sports Journalism. What this means is that you'll be surrounded by serious, dedicated learners who are there to advance their careers, ready to take the job seriously. Thanks to the smaller size of the classroom, you'll get a chance to know each of your fellow students, and begin forming a professional network
2. You'll be creating content
As a student, you'll be producing content before you ever graduate, perfect for building your portfolio and showing employers what you can do, not to mention being able to practice your skills. For example, take a listen to the sports-themed podcasts at Centennial On Demand. This is just one type of content you'll be creating in the program.
3. You'll gain real-life experience
When an opportunity for experiential learning knocks, Centennial's programs answer. Any time there's an opportunity to get students off-campus and into the field, we take it. For example, our Sports Journalism students covered last year's Pan Am games, working with sports media like CBS and Sun Media, producing both written content and live video. More opportunities like this will come to every student in the program each year.
4. It'll lead to a job you love
All of these opportunities, networking, creating a portfolio and getting real-life experience have the goal of connecting you to a career that you love.
By Anthony Geremia