Journalism student attends T20 summit in Argentina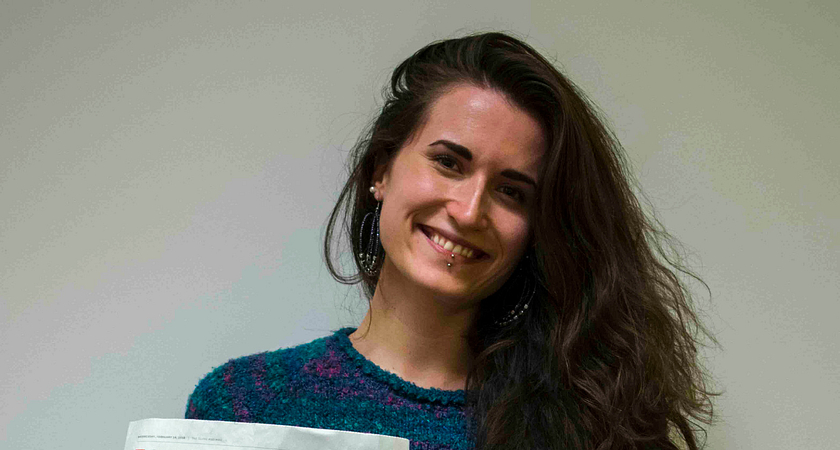 Focusing feverishly on assignments until 4 a.m. was never unusual for Claire Floody — but doing it in Argentina was.
"My energy levels were so ramped up every day," she said. "It really put me out of my comfort zone in a good way."
Multimedia reporter @claire_floody of @centennialjourn captures the opening remarks of Mauricio Macri, president of Argentina, at the @T20Solutions summit in Buenos Aires. @CentennialEDU @v20summit @Centennial_SaGE pic.twitter.com/NmYe7wZ8Cz

— Tim Doyle (@TJDoyle) September 17, 2018
The Story Arts journalism student, accompanied by program director Tim Doyle, stayed in Argentina for three days to cover the T20, a summit that creates policy recommendations for the G20.
While she researched, took notes, interviewed and reported, Floody also live-tweeted panels she attended.
"All of the panels about huge topics like AI, food security and women involved in the workplace were so fascinating," Floody said. "It made me learn about a lot of things and made me talk to a lot of big people."
Vision20 partners @claire_floody from @CentennialEDU and @SusiBeilmann and @kommytoh from @UBC at the opening reception for the @T20Solutions conference in Buenos Aires. #collaboration #storyworks @centennialjourn pic.twitter.com/QAipxcq2zg

— Tim Doyle (@TJDoyle) September 16, 2018
The Storyworks assignment was a part of the Global Summitry Project from University of Toronto's Munk School of Global Affairs where Floody collaborated with two public affairs students from the University of British Columbia. Faculty from U of T and UBC also accompanied them.
She has a podcast and a few stories in progress from the trip, one of which focuses on a contentious issue in the country – abortion rights. Floody interviewed women in Argentina from different professional and socioeconomic backgrounds to get the whole picture.
Busy day for @centennialedu journalism student @claire_floody at the @T20Solutions summit in Buenos Aires. Here she's prepping for the day, shooting the @v20summit panel and interviewing a source. #T20Argentina #storyworks @centennialjourn @StoryArtsCentre pic.twitter.com/ox8QMTEWSE

— Tim Doyle (@TJDoyle) September 18, 2018
"It was an issue that brought up passion within the young people there and it inspired me," she said.
Doyle hopes to add more eye-opening experiences for journalists who yearn to travel like Floody.
"This was the first in what I hope is an ongoing partnership," he said. "It gives students the opportunity to go beyond local and test themselves on international stage to learn a lot about themselves and other countries' issues."
By Bobby Hristova