Broadcasting Program Goes Across the Pond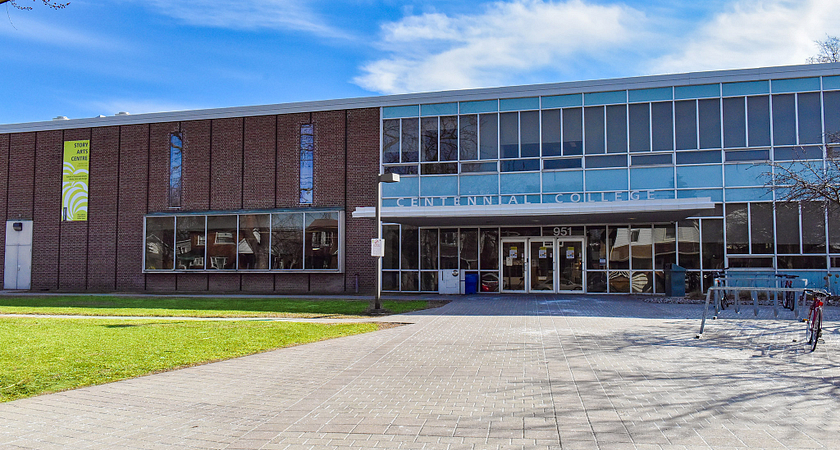 In early autumn 2018, five students from Centennial's Broadcasting – Radio, Television, Film and Digital Media program ventured to Scotland to shoot footage for their documentaries. This trip was the culmination of a collaboration with students at the University of the West of Scotland. It was a months-long, multi-phase partnership that involved pitching and developing ideas, pre-production work, production, and post-production work.
The first step of the students' journey was pitching their ideas. Over the summer, students applied for the partnership opportunity by writing and submitting a documentary pitch. The students whose applications were accepted then began to refine their ideas. Students discussed their ideas with each other and with Chris Terry, Centennial's Broadcasting - Radio, Television, Film and Digital Media program coordinator and documentary director. These ongoing discussions helped the students strengthen their concepts into viable projects.
After developing their ideas, the students and faculty selected which documentaries would proceed to production. Two students from Centennial had their ideas selected. One of these documentaries, authored by Catrina Studor, was about street art in Aberdeen. The second, authored by Bosco da Costa and Mauro deSouza, was about the modern preservation of Gaelic language and culture. The other Centennial students, Julia Morais Arruda Mesquita and Krissy Myers, were major participants in documentaries authored by the University of the West of Scotland students. One project was about women's football, and one was about an online fandom community.
The projects then moved to the pre-production stage to "set the stage" for shooting. As much as students prepare, however, they can never be certain of what will happen when shooting begins. Documentary-making involves constant evolution, as ideas often need tweaking and plans can change on short notice. Documentary makers must always be ready to adapt to shifting situations. For instance, students arrived in Scotland too late to film an entire Celtic music festival, which they had initially planned to do. The students were still able to attend the last day of the festival, where they met subject matter experts who helped them to re-orient their documentary.
Chris Terry accompanied the students on the trip and guided them in their planning and shooting. He said that the students were thrilled with the opportunity to travel and produce professional-grade documentaries, and he has been pleased to see the results of the students' hard work.
Since hearing about the trip's success, students and faculty throughout Centennial have expressed interest in similar partnerships for their programs. The University of the West of Scotland already has an exchange partnership with Centennial and multiple other schools, in Canada and abroad, are open to establishing collaborations with Centennial students. SaGE (Services and Global Experience), Centennial's centre for international education opportunities, is working to develop these partnerships so that even more Centennial students can reap the rewards of this type of international experience.