Paint Your Way to the Career of Your Choice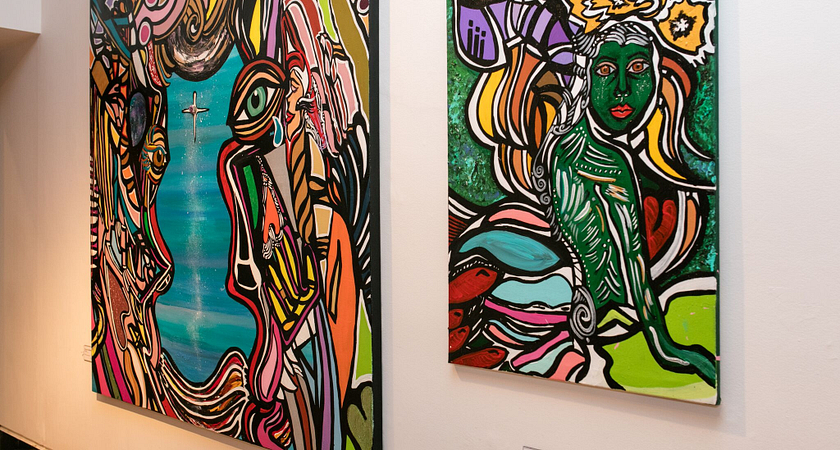 For creative thinkers who express themselves through visual arts, the world is a canvas of possibilities. Turning those possibilities into a viable profession requires you to figure out your unique form of expression and match it up to a career trajectory. Here are a few of the roles that could reflect your professional artistic expression.
Freelance Artist
You can take your fine arts education and become self-employed as a freelance artist. The Government of Ontario offers several resources on how to set up your own business as an artisan, and there are also grant opportunities for Ontario-based individual artists and arts professionals, according to the Ontario Arts Council (OAC). As a freelance artist, you'll be able to share your love of creating art with an array of clients on your own terms. Most artists who practice their craft tend to be self-employed, according to Career Cruising, and that gives them the luxury to produce their work when they feel inspired.
Painter
If working with colours and holding a paintbrush piques your interest, a career as a painter is for you. Painters use their surroundings to create images that evoke responses from observers, and they don't solely work on a traditional canvas. Many painters use various mediums for their paintings — from wood to the side of buildings. There are also multiple types of paints available to work with, including watercolour, acrylics and oil paints. Paintings could range in size from large murals on buildings or other structures to small canvases. Your unique individual style could go a long way in getting your work into art galleries and auctions.
Sculptor
Sculptors' imaginations help them to create three-dimensional works of art using all sorts of materials including wood, metal and plastics. Some sculptors also produce kinetic sculptural pieces that move about and respond to the environment around the artwork. The minds of sculptors are constantly churning to produce art that is avant-garde and makes a statement. Renowned British artist Henry Moore, for example, was inspired by the shapes of natural objects and the landscape when he created his many sculptures, according to the Tate.
Installation Artist
Installation art plays with the perception of space in a site-specific area and it can be housed in an array of places — from museums to private homes. Installation art can either be temporary or permanent. More contemporary installation art utilizes new media, sound and video to create an immersive experience for viewers. Similar to sculptors, installation artists create three-dimensional work that often interacts with viewers and can adapt to their movements. Toronto's Nuit Blanche art festival showcases many temporary installation art pieces that change our perception of the city and spotlight the work of local artists.
Art Instructor
Becoming an art instructor who shares his or her love of the visual arts with students is a great way to combine a passion for fine arts and an interest in teaching. Art instructors can, for example, teach children in elementary school, or high school or college students everything they need to know about art theory and about producing great art. Many artists teach art as a part-time role to complement their full-time work as artists.
Take the Leap into a Colourful Career
Centennial College's Fine Arts Studio program offers a hands-on approach to learning the art with lots of one-on-one attention from instructors. In addition to honing your artistic skills, you'll learn the business of being an artist, which includes building a reputation for yourself to gain a wider audience for your work. Finally, you'll have many opportunities to exhibit your work, a necessity for thriving in the contemporary art world.
Written by: Izabela Szydlo
Resources:
https://www.wikihow.com/Become-a-Freelance-Artist
http://www.arts.on.ca/page16
https://www2.careercruising.com/careers/working-conditions/36
https://en.wikipedia.org/wiki/Installation_art
https://www.tate.org.uk/art/artists/henry-moore-om-ch-1659/henry-moores-sculptures
https://www.seetorontonow.com/annual-events/nuit-blanche/
https://www.teacher.org/career/art-teacher/
https://www.centennialcollege.ca/programs-courses/full-time/fine-arts-studio/