Arts Management Students Organize Successful Symposium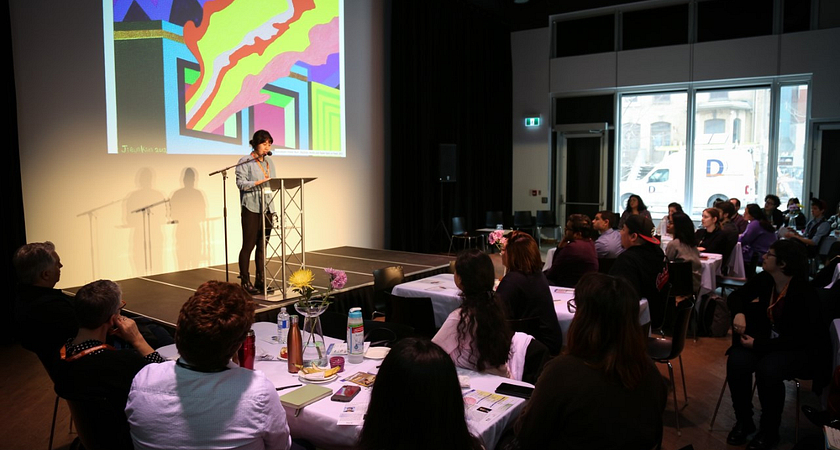 On February 21, 2019, the Centennial College Arts Management program held its fourth annual Arts Ahead Symposium. The event was run by Arts Management students, who coordinated everything from inviting presenters to booking the venue.
The theme that students chose for this year's Symposium was Cultural Kaleidoscope: Migration in the Arts. "It's an interesting process to see how each cohort, each new year, comes to that decision," says Rebecca Peirson, Arts Management Program Coordinator. Students must ensure that the theme is fresh, has broad appeal, and is robust enough to carry a full day itinerary.
Indeed, the day was packed with engaging presentations. The morning keynote speaker was documentarian Dorit Naaman. Naaman gave a talk called "Home, Diaspora, and Documentary Cinema," in which she discussed her latest documentary project about Israeli independence and Palestinian displacement. The Symposium also featured three mini-talks, an afternoon keynote and two panels. One panel was about the experience of migration and its effects on the arts; the other was about incorporating and reflecting diversity in institutions. In addition to these presentations, attendees participated in an artist-led workshop about freestyle rapping as a form of decolonization.
Although the event was in February, students had been working hard on it since September. The Symposium is a culmination of work from two event management courses, which prepare students to manage large-scale arts and culture events. In these courses, says Peirson, "not only do students learn the foundations of excellent event planning; they actually produce a professional event for arts and culture students and industry professionals."
The Symposium has been growing rapidly since its inception in 2016, and 2019 was the first year the event was hosted outside the College. In fact, tickets sold out in the new venue, the Artscape Sandbox. In attendance at the Symposium were just over 100 people, including students, arts and culture workers, industry leaders and artists from across Ontario. "It was the biggest audience yet," says Peirson, "and we only expect it to grow each year as we build the brand!"
To learn more about the Arts Management program and the Arts Ahead Symposium, visit the Arts Management program page, the Arts Ahead Symposium website, or the recent Toronto Star article about the program.
By Gabriel Holt