Broadcasting Basics to Get You Started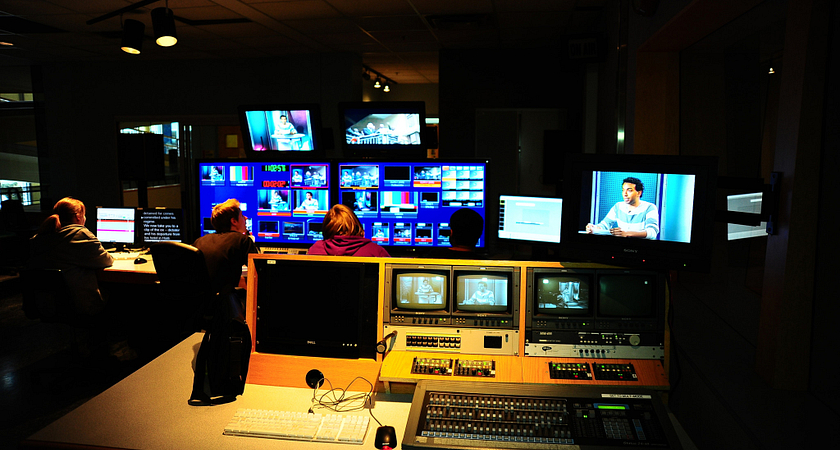 If the words "quiet on the set" or "this is our top story tonight" intrigue you, you might want to consider a career in broadcasting. This wide-ranging field has four very separate umbrellas under it: radio, TV, film and digital media. Under each of these is a wide array of positions. Let's take a more in-depth look at broadcasting and what it takes to get into the field.
What Makes Up the Broadcasting Industry?
Because broadcasting is such a large field, it's important to distinguish which sector you're referring to. Broadcasting could mean the radio and TV stations and networks that create content and acquire the rights to broadcast prerecorded TV and radio programs. These networks transmit their signals from broadcasting studios via satellite signals to local stations and cable distributors. Broadcasting also encompasses the film industry, comprised of the technological and commercial institutions of filmmaking such as film studios, production houses and post-production companies. More recently, digital media has also found a place under the broadcasting umbrella. As with many other industries, technological advances are causing disruption in broadcasting and that's where digital media comes in. Think of all the Youtube channels that now make millions of dollars.
What Are the Career Options?
As you might expect, given the array of work that goes into creating TV, radio, digital and film content, there are many ways to enter this exciting field. First, you'll have to determine in which sector interests you and then, to get even more specific, whether you can envision yourself in the creative or technical side. Let's say your goal is the TV industry, you could work as a field producer or assistant field producer, a videographer, a TV studio technician or assistant, a production coordinator and more. Roles in digital media may be similar to those in TV but may also include story content director or producer, editor or assistant editor and web content contributor. In radio, meanwhile, you'll find roles such as audio editor, announcer, program director, news director and more. Lastly, those interested in film may end up as a screenwriter, a cinematographer, lighting and grip department technician, an art department assistant, a production coordinator, a director and more.
You should consider that for many broadcast professionals, a traditional 9 to 5 doesn't exist. For example, with 24-hour news channels now commonplace, many producers, TV anchors, reporters and others work early in the morning or late into the night. According to CollegeGrad.com, workers in television work longer hours than those in radio broadcasting. Whether you're in TV, film radio or digital, your work environment will likely be a radio station or some sort of set — with the potential to travel on location.
How Does the Canadian Broadcasting Landscape Look?
According to OntarioCreates.com, 2018 was a particularly strong year for the Ontario industry, with the film and television production sector contributing $1.9 billion to the provincial economy through 324 productions. That's up a substantial 18.6 per cent from 2017.
The Canadian Radio-Television and Telecommunications Commission, meanwhile, reports that in 2017, broadcasting services generated total revenues of $17.3 billion, and contributed approximately $3.4 billion or about 20 per cent of total revenues to Canadian content across radio and television through their respective funding mechanisms.
In September 2019, CBS opened a massive film production site in Mississauga, making it the first-ever major U.S. network to open a branded production site in this country. That same month, plans were announced for a large studio complex in Markham, which will include 20 sound stages. On the other side of Canada, direct spending on film and TV production in British Columbia totalled more than $3.8 billion in 2017. That made Vancouver the third largest production centre in North America.
No matter where your broadcasting interests lie, the college courses that makeup Centennial College's Broadcasting - Radio, Television, Film and Digital Media program will prepare you to enter the industry. You'll acquire both technical and creative skills from an offering that's been producing professionals for more than 30 years.
Written by: Izabela Szydlo