Jeremy Cyril & Michael T. Foley | GRAD-preneurs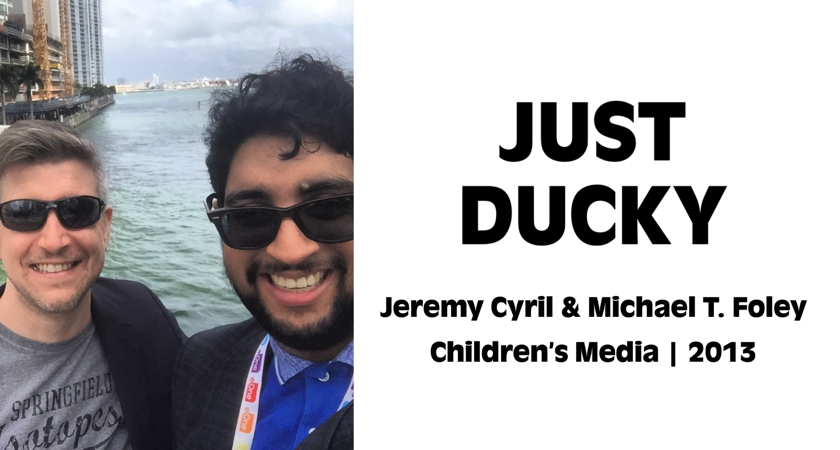 Jeremy Cyril & Michael T. Foley are 2013 graduates of the Children's Media program. They started Just Ducky at the end of 2016, and provide writing services for television productions, blogs, publishing companies, and "anywhere else you can put words."
What's the most interesting thing you've done professionally since leaving the School of Communications, Media, Arts and Design?
Being able to connect with the writing community has been a true blessing. Creating worlds that didn't exist before is always a thrilling experience for us.
What's your favourite memory from your time at the school?
Spending time with a group of like-minded individuals and making silly jokes that turned into real things.
How did your experience at the school shape your entrepreneurial goals? 
Thanks to a lot of the classes we took at Centennial, we felt we had an edge on others in the industry. We feel confident and able to handle a variety of situations, both as writers and as business people.
What advice can you offer students who have entrepreneurial dreams?
However hard you think it is, it's harder. Never stop hustling.
What's the best piece of advice you received when starting your business?
Don't compare yourself to others.
In one sentence, what does the School of Communications, Media, Arts and Design mean to you?
A magical place where dreams come true.
How did you come up with the idea or concept for your business?
We had been working together in a very informal way since meeting at Centennial. It was inevitable that we would start writing together. Pre-ordained.
What have the results of your business been?
It's a roller coaster, but a fun one! 
What's next for your business?
Keeping on coming up with concepts and taking meetings with producers and broadcasters. Hopefully making our first foray into the world of publishing in 2021!
It's your call - tell us something interesting, cool, odd, unique etc. about you or your business. 
In addition to Michael T. Foley and Jeremy Cyril, we also employ Kara the Cockapoo and our wonderful children, Lily (2) and Emery (10 months). Nepotism for the win!
You can find Just Ducky on Instagram: @wearejustducky & on Facebook. 
--
GRAD-preneur is a weekly series that highlights some of the outstanding School of Communications, Media, Arts and Design graduates who have successfully started their own businesses. This series shares the stories of our graduates and their time at our school, as well as provides valuable advice about being an entrepreneur.