Television & Film Business Grad, Evan Brown, Releases Film - Last Ones There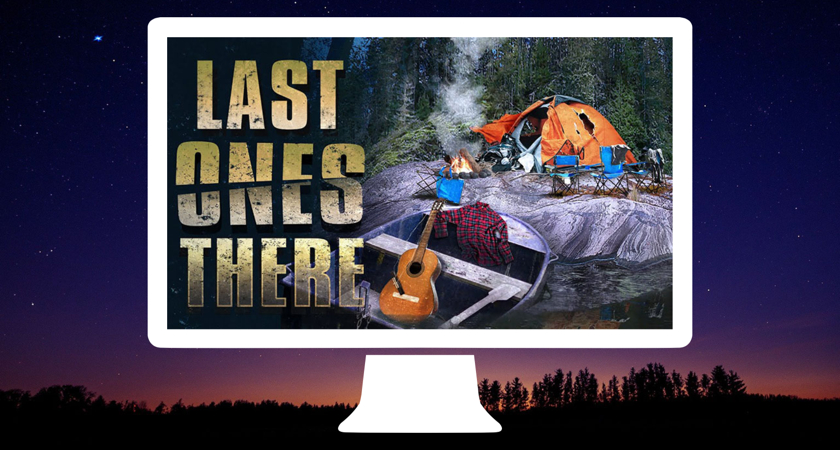 A fun camping trip ends up being more than what a group of friends bargained for in the newly released film, Last Ones There, co-written and co-directed by Television & Film – Business (FTVB) graduate Evan Brown. He explains, "Four friends head out camping to help get away from the stresses of life and unwind. They get so caught up in their own antics that they miss the signs that something around them isn't right. They can't miss it when they wake up one morning and one of their group members has vanished, and the group begins to unravel."
Before calling out "action", the process involved in creating the film took some time. "The story behind [the film] comes from a weird camping trip that was quickly going south. On a mildly stormy day on the island, we stood around the campfire, throwing around ideas. It was myself, Colin Gray, who was my co-director, producer, writer, and everything else, we share the movie equally, and Adam Barton, who co-wrote, produced, and acted in the movie. We spent October through April writing the script," Evan says. 
When it came to casting the characters, Evan explains, "I worked with an actor and stand-up comedian who I thought worked perfectly for the lead role. As it turned out, he and Colin were from the same town and knew one another, and we had our lead, Mark. The roles of Train and Miller were written for Adam and Jon who had acted with us before. For the final roles, Benny and Kat, we decided to hold auditions." After several auditions, he says, "We spoke with Ben (Benny) but never saw him in person again after casting until the night before filming. He drove three hours and came camping with us. Our crew was small and primarily built up of friends, some industry, some not. In the end, we likely went to camera earlier than we should have, but half the fun was figuring it out as we went." 
While on location, Evan says the team often described their filming method as "Cowboy Filmmaking". He explains, "We had only the supplies we brought. We had a gear tent set up to dump footage. Half of our actors had never met the other half but managed to have natural chemistry. On the island, we had a crew of four, myself and Colin included. We had no control of the weather, which was a major challenge; the wind was not exactly our friend. I think our toughest day was the store as we had limited time - a feature film in nine days, five locations, over the course of a year." 
The film is available on multiple streaming platforms including Shaw on Demand, the Cineplex Store, and Amazon (US). "Honestly, it's the coolest thing. We have often described this project as 'working on an old car', it took longer than we had hoped… we tinkered away when we could. Years of hard work, and now we get to display it and drive it around. One of our actors in Alberta got recognized in a restaurant; the server had watched the movie days before. Hearing about that was really neat," he says. 
As for the process of getting the film on the streaming platforms, Evan says having connections played a big part. "In 2011 my co-director filmed his first feature 'Canadian Muscle' and it screened at a film festival in Belleville. He got to talking to Michael Patrick Lilly, Chief Creative Officer of Factory Film Studio. They added Canadian Muscle to their film library and released the movie on several platforms. Since then, Colin and I have worked on several Factory Film Studio projects in various roles. Creating contacts and close connections helped get the movie completed, and it helped get it distributed."
Before entering the FTVB program, Evan went to film school but says that it left out a big portion that the program at Centennial helped to fill in. "At the time when I attended the [FTVB] program, we had already shot the film but I now know a lot about things we didn't do that we should have. There is a term that most of the industry knows and cringes at called "Fix it in post" and the same thing can be said regarding paperwork. In theory, we knew these things, but we were too ready, set, go. Lesson learned the hard way. After the program, I interned with a former teacher from the FTVB program. She then hired me on for production work on the same show, post research after, and on the next series as a Production Coordinator." 
Despite entering the FTVB program after Last Ones There completed filming, the entire process still benefited his learning overall within the industry. He says, "Being involved in the full process, from writing, pre-production, post, and the business side, certainly was a unique experience. We didn't always do things the industry-standard way. Until the paperwork… only one way to go about that stuff."
Evan wants to give a special thanks to Factory Film Studio, Colin Gray, Adam Barton and everyone else involved.
Be sure to check out Last Ones There today. Congratulations, Evan!  
Written by: Alexandra Few