Kimberly Persona | GRAD-preneur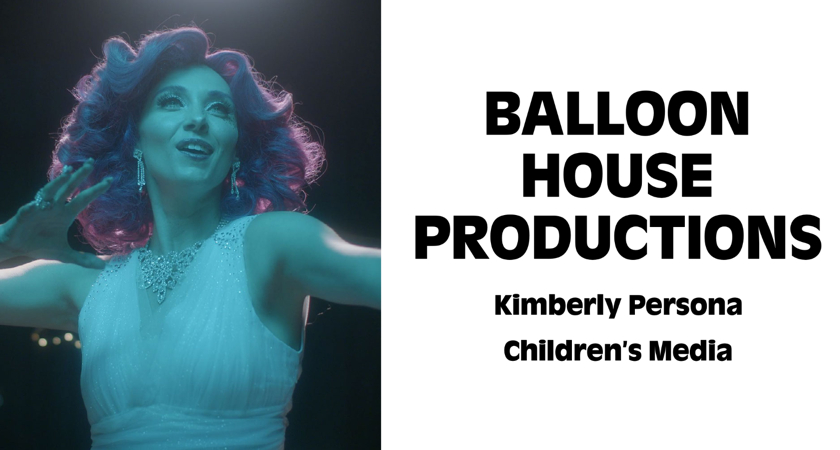 Kimberly Persona attended the Children's Media program, and now owns and runs Balloon House Productions – a boutique production company devoted to creating entertaining, meaningful media for kids, including a Daytime Emmy nominated series called Miss Persona which airs daily on Treehouse TV. "We also produce a web series called Space Dragon and Kim for Shaftesbury Kids. Previously, we produced a web series/feature film called Princess Sparkly Butt & The Hot Dog Kid for Teletoon, which was also an award-winning Fringe play. I started pitching series about 11 years ago," Kimberly shares. 
"I am the president of the company as well as the producer of all our series. I am also an actress -- I play Miss Persona. In addition, I write songs for the series as well as write scripts and direct episodes/music videos." 
What's the most interesting thing you've done professionally since leaving the School of Communications, Media, Arts and Design?
I would say producing and starring in Miss Persona! It airs daily on Treehouse TV and I was personally nominated for two Daytime Emmys for the series, one for performing and one for producing. We've also started a live tour with Miss Persona, which is on hold for now until it is safe.
What's your favourite memory from your time at the school?
The invaluable lessons I learned from my instructors in all areas of the industry. Very grateful for all of them: Larry Mirkin, Suzanne Wilson, Polly Beel, Laurinda Shaver, Sasha Boersma -- too many to name!
How did your experience at the school shape your entrepreneurial goals?
Suzanne Wilson's "Business of Children's TV" class helped me build a business plan with actionable steps that I follow to this day!
What advice can you offer students who have entrepreneurial dreams? 
A lot of people are going to reject you. I was rejected around the world for a decade until Treehouse and Nelvana picked up Miss Persona and they turned out to be the perfect partners for the series! Have faith in your vision, in spite of all the rejection and be persistent. You can do this!
What's the best piece of advice you received when starting your business?
Get a good Entertainment Lawyer! In one sentence, what does the School of Communications, Media, Arts and Design mean to you?
The bridge between my dreams and my goals.
How did you come up with the idea or concept for your business?
I had a dream for a kids TV show and I had to figure out how to make it a reality. 
What have the results of your business been?
We are an Emmy nominated, Kidscreen nominated, Youth Media Alliance Award of Excellence winning production company with a series currently airing daily on TV, another in production and more in development. I've been able to make Kids TV for a living which is a dream come true.
What's next for your business?
The last episodes of this current season of Miss Persona are currently premiering on Treehouse. Next up we are producing a 2nd season of Space Dragon and Kim for Shaftesbury Kids and we have a series in development with CBC Kids called Bunker Buds.
It's your call - tell us something interesting, cool, odd, unique etc. about you or your business. 
I work with my husband, Brandon Lane, who is the showrunner of Miss Persona and also a grad and former instructor of Centennial's Kids Media program. And I named a puppet in Miss Persona after him!
You can find Balloon House Productions on their website as well as Miss Persona on Facebook: @MissPersonaShow 
--
GRAD-preneur is a weekly series that highlights some of the outstanding School of Communications, Media, Arts and Design graduates who have successfully started their own businesses. This series shares the stories of our graduates and their time at our school, as well as provides valuable advice about being an entrepreneur.