Kamaj Silva | GRAD-preneur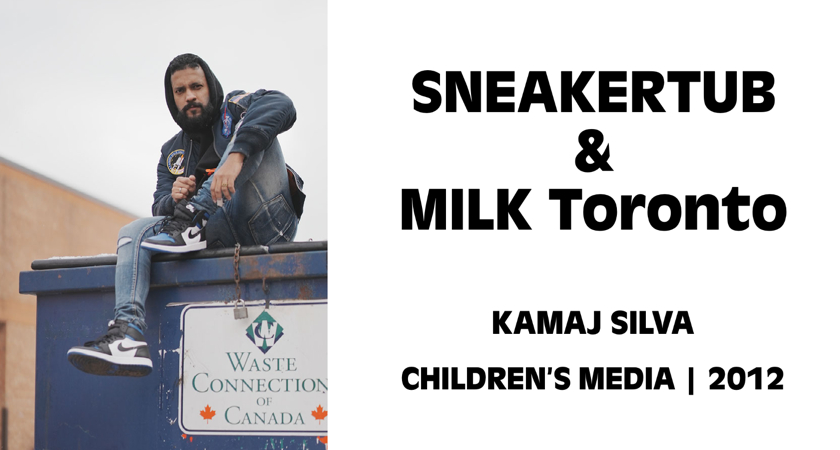 Kamaj Silva is a 2012 graduate of the Children's Media program, and is the Founder and CEO of SNEAKERTUB Corp. In 2016, he launched SNEAKERTUB - the world's first sneaker subscription service, and in 2018, he launched MILK Toronto – a cereal-themed sneaker and streetwear store.
What's the most interesting thing you've done professionally since leaving the School of Communications, Media, Arts and Design?
Starting my own business was definitely the most interesting I've done since leaving Centennial. However, after graduation, I worked in the Film and TV industry for over 5 years. I was able to work on brands including Peppa Pig, PJ masks and tons of other leading brands.
What's your favourite memory from your time at the school?
Our program had a lot of students from different backgrounds and everyone helped each other out. Crashing on Deryk Ouseley's couch for 3 weeks was probably my best memory from school. I broke his couch and I think I still owe him a couch.
How did your experience at the school shape your entrepreneurial goals?
A lot of the marketing tactics, pitching and practical work at school helped shape me for the challenges of the real world. Believe me when I say this industry is cutthroat, discriminative and very judgemental. School taught me to keep a level head and move forward no matter what.
What advice can you offer students who have entrepreneurial dreams?
Just do it. There's no perfect time, no perfect amount of capital to launch your business. Nothing else matters but your drive and determination. Get to market first and you can figure things out and tweak the product later.
What's the best piece of advice you received when starting your business?
I'm an accidental entrepreneur so I didn't go the traditional route of having a mentor and soak in advice. The advice I gave myself was to be fearless.
In one sentence, what does the School of Communications, Media, Arts and Design mean to you?
A great destination to shape your creative career.
How did you come up with the idea or concept for your business?
In 2016 I was laid off from my Marketing Manager job at eOne. I was on my way home in a taxi with the last $700 in my bank account. I wanted to build something for myself rather than going for interviews and trying to prove myself to people that I'm worthy enough to work for them. I married two of my favourite things, subscription boxes and sneakers together and SNEAKERTUB was born.
What have the results of your business been?
Starting from $700 we are now valued at close to $5 million and we work with the best brands in the world. For a brown kid from Sri Lanka, that's not bad.
What's next for your business?
We have few secret projects on the go that I can't share any info about. There is a new retail space in the works and is ready to open once the pandemic is over.
It's your call - tell us something interesting, cool, odd, unique etc. about you or your business. 
We are the first and only Sneaker Subscription service in the world. What's cooler than that?
You can find Kamaj on Instagram: @kamajsilva as well as SNEAKERTUB: @sneakertub & MILK Toronto: @milk_toronto
--
GRAD-preneur is a weekly series that highlights some of the outstanding School of Communications, Media, Arts and Design graduates who have successfully started their own businesses. This series shares the stories of our graduates and their time at our school, as well as provides valuable advice about being an entrepreneur.