PR Student Podcast "COVID Conversations" Discusses Issues Facing Millennials & Gen Z During the Pandemic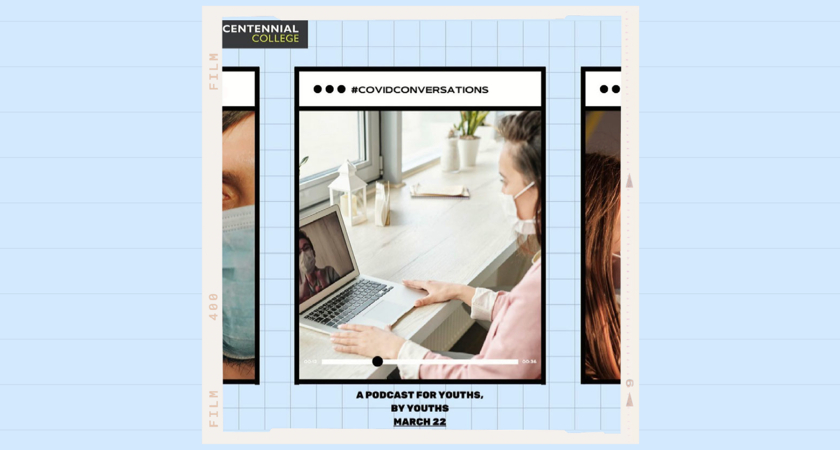 A group of students in the Public Relations – Corporate Communications program had the incredible opportunity to collaborate with the City of Toronto for their Storyworks assignment. Tasked with the goal of creating relevant messaging for Millennials and Gen Z in the GTA regarding COVID-19 safety, the group jumped into action to come up with a way to connect with young people to discuss these important issues. What resulted is a 5-part podcast series called COVID Conversations.
Students approached their client's goal quite strategically as they wanted to ensure the messaging they would project to listeners, who would be made up primarily of young people, was both personal, yet informative. Nathaniel Glassman, one of the students who worked on the podcast, says, "Our aim was to flip the narrative of the irresponsible, party-going, rule-ignoring young Torontonian and reveal the complexity of young people's lives as a result of COVID-19. To do this, we eschewed the finger-wagging COVID-19 safety messaging and developed messaging rooted in empathy, representation, and targeted helpfulness." 
The reasoning behind pursuing a podcast as the medium to transport their messages came down to the accessibility factors that podcasts provide. Since students are learning from home, arranging a podcast remotely was ultimately the best option. Nathaniel explains, "The idea of creating a podcast stemmed from the reality that remote learning and lockdown measures offer few outlets for meaningful communication. While options were limited, the advantage of podcasts was that hearing the voices of the affected demographics added a much-needed human layer to the stories," Nathaniel shares. 
Each episode of the podcast focuses on a different topic regarding COVID-19 that is currently affecting many people, including the younger generation, as the pandemic continues. Living with family/roommates during the pandemic, finances, mental health, beating COVID-19 fatigue, and self-care are the overarching themes that are discussed for each episode, with the help of experts who joined in to discuss each topic.
Nathaniel shares, "The podcast is by young Torontonians, for young Torontonians. It seeks to highlight the unique difficulties Millennials in the GTA are struggling with as a result of COVID-19. In each episode, a young person in the demographic shares their story and asks questions about how they can realistically stay safe while working frontline jobs, living with roommates, and dealing with a decline in mental health. A subject matter expert responds to the story and questions with targeted, realistic, and helpful advice, according to the podcast theme."
However, arranging these themes for each episode required a lot of planning. Nathaniel says that the group sent an anonymous survey to those 18-32 years old who live in the GTA. They were asked a series of questions regarding lifestyle changes and any other issues that have resulted because of COVID-19, and the majority of the results they received related to mental health concerns. These results immensely helped the group get a better idea of what to focus on throughout the episodes.
Once there was a better understanding of what they wanted to discuss, the process of arranging who was going to be included within each episode, and how it was going to be recorded, was an entirely new hurdle in itself. "Coordinating the podcast was an immense challenge to overcome while working remotely. My group and I had to find young people willing to be recorded for an interview. We then had to research subject matter experts for each topic to respond to the young person's story. These subject matter experts had to be contacted, informed on the project, and sent a recording of the young person's story they were responding to." Nathaniel explains. "Everything was recorded on Zoom or through voice memos on our phone. Everyone has a slightly different recording setup, including the guests. Ultimately, for lack of a better term, the podcasts were 'Frankensteined' together."
Despite any preliminary concerns, the process of creating the podcast turned out to be quite successful. Nathaniel says, "Working with the City of Toronto was terrific. They gave us a ton of freedom to develop the project as we envisioned. That hands-off approach was indicative of an enormous amount of trust they placed in my group and I."
The final product succeeded at addressing the client's goals, as well as the goals set by the group. "With the podcast, we hope to reassure young people in the GTA that their situations are universal for their demographic. They are not alone, and there are free resources available to help navigate this difficult time. We also want older demographics to understand the difficulty of these demographics' situations. It is not an option for a twenty-something frontline worker to just pack up and move to a cottage in Muskoka for half a year. They are under-resourced and bear an enormous responsibility for everyone's safety. That being said, finger-wagging rhetoric is inappropriate and counter-productive in helping younger demographics stay safe and sane during the pandemic," Nathaniel shares.
COVID Conversations has gained quite a bit of recognition, such as receiving a shoutout from Toronto Mayor John Tory! Nathaniel says, "The City of Toronto is incredibly busy all the time, as I am sure you can imagine. That being said, they were able to have John Tory mention COVID Conversations on his Wednesday, March 24, COVID briefing. They also amplified our message by posting and sharing the project on their social media pages."
Nathaniel was also interviewed about the podcast by Ismaila Alfa on CBC Metro Morning, which you can listen to here. He shares, "The interview took place on Friday, March 26 at 6:20 am. I did not sleep at all the night before. My palms were drenched in sweat, but I managed to make it through the interview without choking. It was nerve-wracking, but it legitimized the months-long hard work my group and I put into COVID Conversations.
He also wants to share that working with his team (Janielle Downer, Halli Gallo and Vanessa Tolentino) was the most fulfilling part of the project. "They have been extraordinary while working remotely. None of us have ever met in person, yet we managed to develop and execute a campaign surrounding a crucial topic for the City of Toronto."
Thoughts from the rest of the team.
"COVID Conversations was an extremely meaningful campaign for my whole team. My main roles were client liaison and graphic designer, so as a public relations student, it was definitely an amazing opportunity to gain real life experience in the field. We secured an interview on CBC Metro Morning and received a mention from Mayor John Tory which in turn, helped us reach our goal of highlighting the unique issues that young people face every day in the wake of COVID-19. My hope is that people listen to the podcast and realize that younger demographics aren't to blame, but instead require more support in navigating the pandemic. Empathy and communication go hand in hand but sparking a conversation is just the first step." – Vanessa Tolentino
"Working on COVID Conversations was an amazing experience. Recording a podcast while my team members and myself were working remotely taught us how to record and collaborate in a virtual setting. I got to speak on episodes one (Living with family/roommates during COVID-19 with guest expert Ph.D. candidate Isha Berry) and three (COVID-19 and your mental health with millennial Dr. Sarah Park). Helping my peers navigate the global pandemic while addressing their issues was rewarding and eye-opening. Overall, I think our podcast went very well! Getting a shout out from Mayor John Tory about our podcast was definitely a highlight I don't think I'll ever forget." -Halli Gallo
"As a part of the Storyworks project, three of my classmates and I worked together with the City of Toronto to increase awareness and online engagement that informed young people (ages 18 - 32) to safely navigate their unique situations during the pandemic and change their negative reputation about COVID-19. The five-day campaign featured a series of podcasts with five guest experts from March 22 to March 26. After the podcast, what I heard was that they thought the stories shared by the guests were relevant to the times and their experiences. Many said it created a space that allowed them to share their side of the story and find solutions to navigate their day-to-day life. I have found myself going back to tips offered by Rick Ezekiel on staying productive whenever I feel myself falling into a rut. In retrospect, I believe that the COVID Conversations campaign was what my peers and I needed." – Janielle Downer
You can listen to COVID Conversations on SoundCloud, Apple Podcast, Google Podcast, and Spotify.
Written by: Alexandra Few