Faculty Profile: Nadia Hohn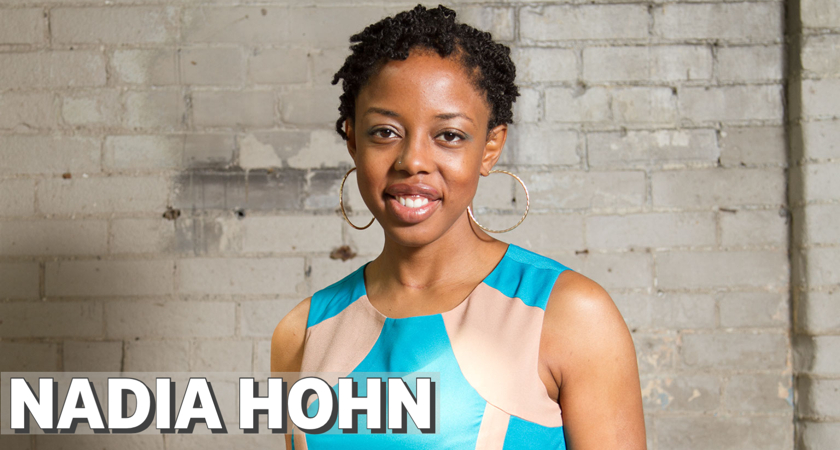 Nadia Hohn has spent years in the children's media field, including writing a series of popular picture books that place quality storytelling and representation at the forefront. Regarding her books, she says, "I'm particularly interested in sharing stories and media images about underrepresented groups especially and having more representation." Ever since she was a child herself, she has had an immense interest in writing, such as with the books she would create at a young age and through more personal writing forms. In 2016, she published her first fictional book, and her career has since grown exponentially. She has gone down several different pathways in regard to storytelling, including teaching in the Children's Books course in our Children's Media program.
The first fictional picture book she released was Malaika's Costume which follows the character of Malaika, a young girl who is relying on her mother to send her money to buy a costume for Carnival. Malaika's mother moved to Canada to provide better for Malaika and her grandmother, and when she is unable to send the money, it leads Malaika to either take the hand-me-down costume from her grandmother or create something herself with the scraps from her town's tailor. This book has been a wonderful launching point for Nadia, as it has led to many more books in the series. Recently, Malaika's Costume was selected as the 2021 title for the TD Grade One Book Giveaway, which will provide every Grade One student in Canada a copy of her book.
Nadia's second and third books followed quickly after the first due to how the series originated. In 2013, Nadia received an email that said a company was looking for writers to create a certain number of books for schools about Black heritage. After selecting a couple of titles, Nadia had secured her first three books in a very short amount of time, especially since an editor liked the manuscript for Malaika's Costume and was interested in publishing it.
Her second book, Malaika's Winter Carnival, was published in 2017 and follows the same character, Malaika, who now gets to reunite with her mother, but it means moving to Québec City, and many changes emerge. This book has also reached great success, as it was featured, in addition to Nadia's name, in a Toronto Star crossword puzzle, which is published nationally! The third, and most recent book in the series, is Malaika's Surprise, published in 2021. This book again follows Malaika, who this time finds out she is going to have a new sibling but worries her mother will forget about her, that is until a surprise arrives on her birthday that commemorates their love.

An inside look at the book Malaika's Surprise. Illustration by Irene Luxbacher
Malaika's Surprise is Nadia's seventh book, and since it is her most recent, she went on a book tour, something she typically does for each book she writes. Nadia primarily goes to libraries and schools to speak, but due to the pandemic, she relied on live and recorded videos that would make up her online tour. Since February is Black History Month,
Representation, which is evident in Nadia's books, is extremely vital in all children's media. Nadia says that whether we like it or not, children are spending a lot of time engaging in media, and it acts as a third teacher – the first and second being their families and school. "We really need to think about the images that they are surrounding themselves with. Those first lessons are going to help shape them," she explains. "Children are still forming their ideas to the world around them. They deserve to be shown the very best of images, and a variety of things, and not just conform to old notions of what adults think particular groups are supposed to be like. 
Adding to Nadia's storytelling repertoire is the exciting screenwriting project she did with Historica Canada on Canadian musician Oscar Peterson. Nadia is a Master of Fine Arts Student in Creative Writing at Guelph and took a screenwriting class in the Fall. Coincidently, and completely unrelated, two days before she submitted her final assignment in that course, she received an email that Historica Canada was looking for a screenwriter to work on this Heritage Minute video. Nadia jumped at the chance, especially since she had written about Oscar Peterson in her first two books, had shown his documentary at a festival of hers twenty years ago, and had met him twice. This connection helped immensely when developing the story for the video, as she says, "I borrowed the tone of how I wrote it a bit from the first book I wrote because I had written a story with a character portraying a friend of Oscar Peterson, and so I kept that in mind." She continues, "I wanted this to sound local and sound like the narrator had seen Oscar's life and how it all plays out." Nadia explains that seeing the finished product was extremely exciting, and thought, "oh my gosh those are my words".
 
Nadia has had an extremely successful career thus far, and her advice to those wanting to follow a similar path in children's media is to "read, read, read" and "write, write, write." She also says that finding a community is important, which might involve joining memberships and conferences.
Having already signed contracts for her eighth and ninth books, Nadia continues to write and work on other projects on the horizon. You can follow along by checking out her website and Instagram: @nadialhohn_author.
Written by: Alexandra Few