Behind the pharmacy counter: Why it takes so long to get your prescription filled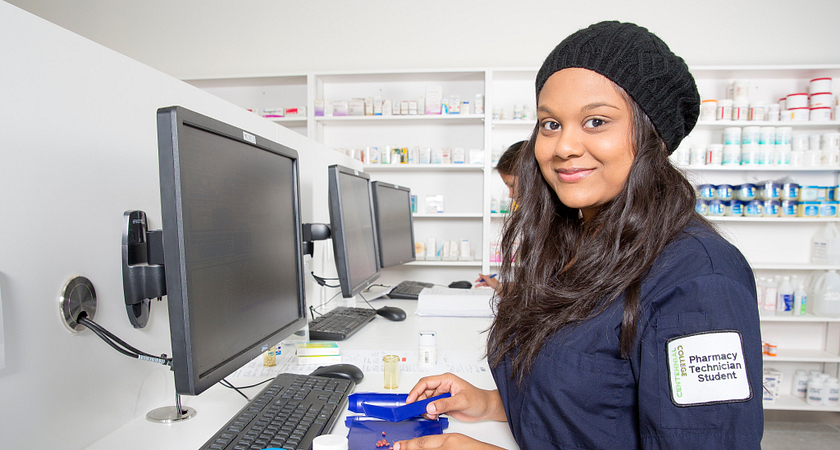 Have you ever gone to your local pharmacy to drop off a prescription and were given one of those buzzers to carry around while you waited? You've probably wondered why they're even necessary – especially if what you're there for already comes packaged and doesn't need to be counted out like a bottle of pills. Why can't they just give it to you and be done with it? Why does it take so long?
There's actually a whole lot more going on behind the counter of your community drug store than most people realize, and it doesn't just involve printing a label and slapping on the side of a bottle. So here's the inside scoop on what really goes on at your pharmacy.
You're given a prescription from your doctor. There are a number of options to get it filled, including by phone, online or in person, but most people just bring it in and wait for it in-store. You walk in, lurk around the counter until the person speaking with the pharmacy technician leaves, and you "place your order," announcing that you, too, will wait for it.
You soon find yourself flipping through magazines and browsing the greeting card section while you hang onto an electronic device you hope will start buzzing any time now. While you're anxiously waiting to be summoned, your pharmacy team is just getting started. You see, while you're checking out the latest edition of Sports Illustrated, they're trying to decipher your doctor's handwriting to figure out what exactly has been prescribed, the dosage, method of delivery (i.e. oral, injection, inhalation), and the instructions for taking it. And if it's not clear, they'll need to call your physician's office (which as you know, never answers the phone).
After eventually figuring out what it is you've been prescribed, it needs to be entered into the computer system that tracks your medication history. The pharmacist will then review what you're currently taking and ensure what you've been prescribed is right for you. They will also look for any potential hazards such as side effects or drug interactions with previously dispensed medications that could be of concern. If there's an issue, the pharmacist may recommend something else, and a call will have to be placed to your doctor's office (Ontario Pharmacists Association).
Once the order has been confirmed, a pharmacy technician (who's been fully trained through a pharmacy technician program in Toronto and registered with the Ontario College of Pharmacists) will select the appropriate drug, brand, strength, form and quantity, and then package it up, review the instructions, gather informational pamphlets, apply cautionary labels and document everything in the system. Think this is where you get paged? Not so fast!
When everything has been prepped and deemed "ready," the overseeing pharmacist is required to do a final check to ensure your safety and well-being. But unfortunately you're not the only person waiting to pick up a prescription, and before you can be called, the sole pharmacist must meet with another patient to discuss the changes in their medical condition and the side effects their new meds might cause. So you'll have to wait a bit longer.
Buzz, buzz, buzz! You're being paged! You race over to the counter only to find there's a lineup. You stand patiently waiting while your pager goes nuts, buzzing and beeping, until you finally reach the pharmacist. They tell you about the new drug you're being given, what you can expect, the best time of day to take it, and then asks if you have any questions. You say no, and you're on your way.
Pharmacies are extremely busy places. There are always delays, unreturned calls to doctor offices, insurance issues, and then having to explain what's going on to patients who just don't understand why it takes so long. On top of that, retail pharmacies (i.e. Shopper's Drug Mart, Rexall and Lovell Drugs) offer more than just pharmaceutical services, and these also take up time that would otherwise be used to prepare your order (like giving flu shots, helping customers pick out a cough syrup and ringing up groceries or cosmetics).

So you see…this is why it takes so long. The next time you need to get a prescription filled, be sure to submit it well in advance, pay only for prescriptions at the prescription counter, and thank the pharmacy team for helping you out.
By Ashley Breedon