Why Canada's the perfect place to launch your career in HRAC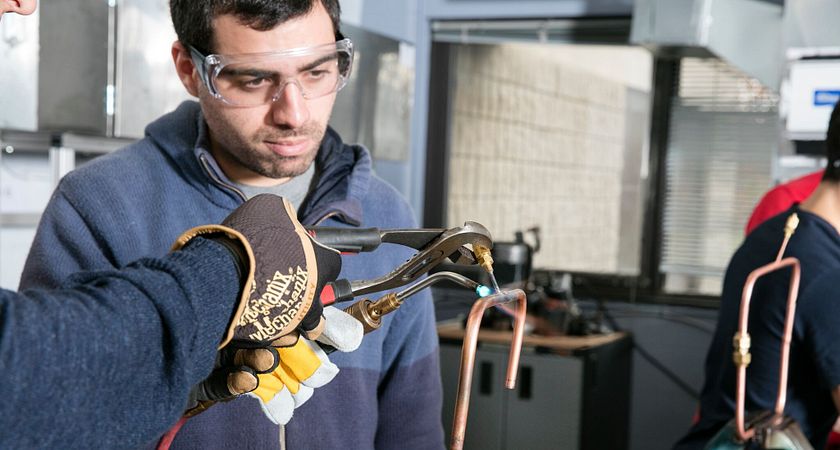 Maybe you already know you want to pursue it, or maybe you're still trying to figure things out, but enrolling in a heating, refrigeration and air condition program will no doubt eventually land you a hot job... or a cold one? Either way, Canada is the perfect place to launch a career in HRAC, and here's why.
Four seasons
If you've lived in Canada for a number of years, you know about our four seasons: almost winter, winter, still winter and road construction (kidding!) They're actually fall, winter, spring and summer, but you're probably fully aware of how whacky they can be. And while the drastic fluctuations in temperature might drive some people mad, they're what keep HRAC technicians busy! While spring and fall are typically filled with appointments for regularly scheduled maintenance and upkeep, winter and summer bring an increase in emergency repair calls on heating and air conditioning units, namely within residential areas. Comfort is big in this industry, but sometimes a broken furnace or air conditioner can mean life or death — especially for children and seniors in extreme conditions. So a technician's ability to quickly troubleshoot and fix the problem at these times is critical.
Hockey – Canada's fifth season
Growing up in Canada, my evenings and weekends were spent at the local arena — All. Year. Round. We ate, slept and breathed hockey like it was the most important thing in the world (and I guess as a kid, it was). But aside from hockey, our country has a love for all winter sports, like figure skating, speed skating, ringette and curling. All of which require the use of ice. Of course, with our temperamental weather patterns, artificial rinks are absolutely necessary. From the actual ice itself to climate control within dressing rooms, hallways and spectator seating, technicians must be able to manage widely-varying temperatures within the same building. And as most arenas run non-stop, year-round, they require constant maintenance so sports teams and recreational programs can continue to rock. 
Feeding the foodies
Thousands of Canadians take to social media to post pictures, videos and reviews of the food they make, plate and eat every minute of every day. And with the advent of reality cooking shows, the self-proclaimed "foodie" movement has never been bigger. In order to "feed the beast," grocery stores have to be well-stocked with a variety of food products from all over the world. But in order to keep it all fresh, we rely heavily on industrial-grade freezers and refrigerators, and that's where the HRAC pros come in. Their expertise is essential in ensuring our food is stored and sold at safe temperatures. Without proper refrigeration, bacteria grow quickly and can cause serious health issues, and in serious cases, sometimes even death.
Canada needs a facelift
Canada's not an old country. We're only 148 years old, but we seemed to have left our infrastructure to collect dust (and in some cases, turn to dust!) In 2014, the Canadian government launched the New Building Canada Plan, which promised $53 billion in infrastructure investments across the country. It includes not only new buildings, but the retrofitting and rehabilitation of existing ones. Upgrades across the country have reached desperate levels, which means there will be a number of opportunities for HRAC technicians coming down the pipe. Initially, the plan was to be rolled out over 10 years, however with the recent change in government, Prime Minister Justin Trudeau could implement action in a shorter timeframe, so keep an eye on developments in this area.
With all its seasonal ups and downs, mild obsession with ice sports, Instagram-crazed foodies and old-as-dirt dwellings, Canada offers the perfect mix of needs and wants that will keep the work flowing in a lot of industries. But for those at Centennial College in Heating, Refrigeration and Air Conditioning Technician program, your future looks especially good.
By Ashley Breedon