World Environment Day 2015: Small acts, big change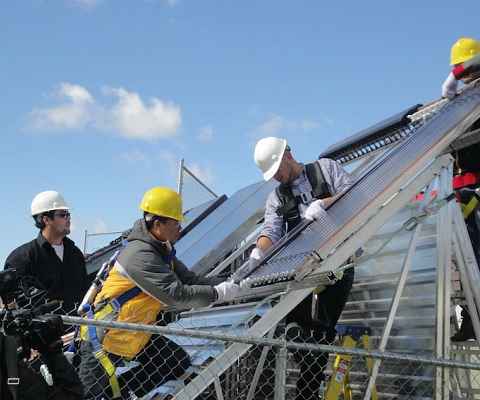 Friday, June 5 marks the United Nations' 15th annual World Environment Day (WED), in which we celebrate positive environmental action, encourage awareness of critical issues and address the behaviours we need to change.
This year's theme, "Seven Billion Dreams. One Planet. Consume with Care." underscores the urgent need for building sustainable communities, as the planet struggles to support an ever-increasing population of more than seven billion people. We're going to need two planets by 2030 to support the way we're living with the current rate of resource consumption and population growth – a scary prediction, but one we're steadily progressing toward.
One of the most significant challenges we face is the amount of food we waste. Our patterns of production and consumption are causing about 300 tonnes of food to be thrown out every year, and it's food that's still fit for human consumption. With an estimated 842 million undernourished and starving people globally, there's no reason for such extreme waste.
Locally, we may not realize the larger impact since food is so readily available, but it's estimated Canadians waste about $31 billion a year, with the average household tossing up to $1,500 a year. The David Suzuki Foundation's Queen of Green, Lindsay Coulter says "It equates to filling four grocery bags at the supermarket each week and leaving one in the parking lot."
Taking a huge step in the right direction, France recently introduced radical new legislation to ban supermarkets from throwing away food that's still good to eat after a report found that 4.3 million tonnes of surplus food was produced each year. Grocery stores must now donate any edible food (packaged or fresh) to local charities, and send the rest be processed into animal feed or compost. Whether or not this type of action would work in Canada is still being debated, however, it doesn't take much to make a big difference.
"Although individual decisions may seem small in the face of global threats and trends when billions of people join forces in common purpose, we can make a tremendous difference," says UN Secretary-General Ban Ki-Moon. "Let us think about the environmental consequences of the choices we make. Let us become better stewards of our planet."
In thinking how each and every action contributes to the bigger picture, I'm reminded of the story "The Star Thrower," by Loren Eiseley. In it a young boy walks along the beach, picking up starfish and throwing them into the ocean. As he does this, a man approaches him to ask what he's doing. The boy replies "the sun is up and the tide is going out. If I don't throw them in, they'll die." While the man is quick to point out there are miles of beach, hundreds of starfish and that he can't possibly make a difference, the boy throws another and says "It made a difference for that one."
We can all learn from France's efforts and the "starfish story" by doing our own part locally. One small action multiplied by seven billion people will surely make a difference in the future of our one and only planet. Below are some ideas on how you can take action:
Zero-waste lunch: Pack with reusable containers and only pack what you can eat.

Neighbourhood cleanups: Pick up trash and recyclables from around your area.

Stop wasting food: Plan your weekly meals, buy only what you need and freeze leftovers for future meals.

Drive less: Ride your bike to school/work or take public transportation.

Manage your waste: Reduce what you buy, reuse what you can, and recycle everything possible.

Use water wisely: Run the tap only when necessary (i.e. turn it off when you brush your teeth!) and use cold or warm water to wash your clothes.

Turn the lights off: Once you leave a room, flick the switch.

Work with the weather: Keep blinds/curtains closed during hot summer days (and open on sunny winter days).

Reduce: Sell or give away used clothing, toys, furniture or other unneeded items.

Reuse: Compost food and yard waste for use in the garden.

Recycle: Separate paper, cardboard, glass, metal, and plastic into the respective bin.

Dispose of household hazardous waste (HHW) properly, either through collection days or specific drop-off sites. To find out what's deemed HHW, refer to the City of Toronto's handy Household Hazardous Waste information.
By Ashley Breedon