5th Annual E3 Symposium balances sustainable change with economic growth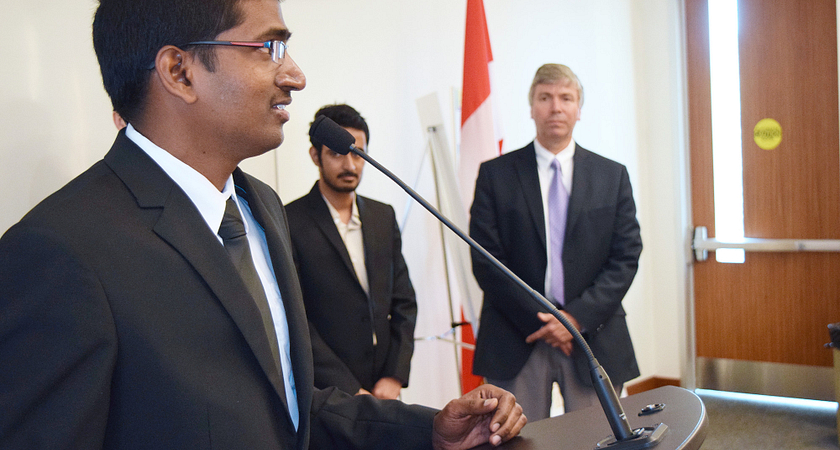 The School of Engineering Technology and Applied Science (SETAS) recently hosted its 5th Annual E3 Symposium, Clean Technologies: Enhancing Sustainability. Focusing on the long-term vision that "Ontario will become a North American leader in the transition to a low carbon, distributed energy economy," participants were challenged to understand the obstacles and opportunities in the development of both a sustainable and profitable future.
This year's lineup featured a number of environmental visionaries, with specialists in areas such as power generation and renewable energy, energy efficiency, water and wastewater management, green chemistry and green transportation.
While E3 refers to Energy, Environment and Education, the symposium acts as a forum for sharing and exchanging ideas and solutions on issues affecting the longevity of our planet. It offers a unique opportunity for industry, government and educational champions to come together and talk about the concerns at hand.
"The event really highlights the need for a collaborative approach and meaningful involvement from all sectors, including industry, government and post-secondary institutions," says Patrick Kelly, Dean of SETAS. "This ensures Ontario remains competitive on a global scale and leads the way in the development of clean technology that also provides for a sustainable economy."
In addition to hearing from some of the industry's top minds, attendees also had the chance to network with them. Presentations were given by: 
Bloom Centre for Sustainability
Students from a number of SETAS programs participated in the all-day event, including biotechnology student Mathias Uche, who says "I was encouraged when I saw how many young individuals like me took the time to participate in such an event. Technology will continue to play a vital role in every nation's economy."
Fellow biotech student Kehinde Dada echoes his sentiments. "The symposium was an eye-opener on what technology has to offer in terms of profitable opportunity in applied sciences," he says. "I am convinced what we do in our laboratories and classrooms will enhance and promote productive sustainability for not only large-scale organizations but entrepreneurs."
Uche and Dada will both graduate in spring 2016. Dada is aiming to be a medical scientist, specifically working with stem cells, therapeutics and genetics, while Uche is looking forward to a career in water reclamation.
This year also marked phenomenal achievement as engineering students from Centennial College were awarded first place in the National Engineering Month (NEM) Ontario College Student Challenge. The feat, which involved nine teams from seven colleges, required students to host their own #NEM2015 event with the overarching goal of bringing greater awareness to engineering and technology professions. Stephen Morley of OACETT said the team did an "exceptional job in raising awareness …and attracted a record number of attendees to their 'TEDx-like' event."
When asked what we can expect at next year's E3 Symposium, Dean Patrick Kelly assures us it will be the best yet and will once again showcase top minds from industries leading the charge to a future that's sustainable, profitable and primed for growth.
By Ashley Breedon