Seven everyday items you can thank an electrical engineer for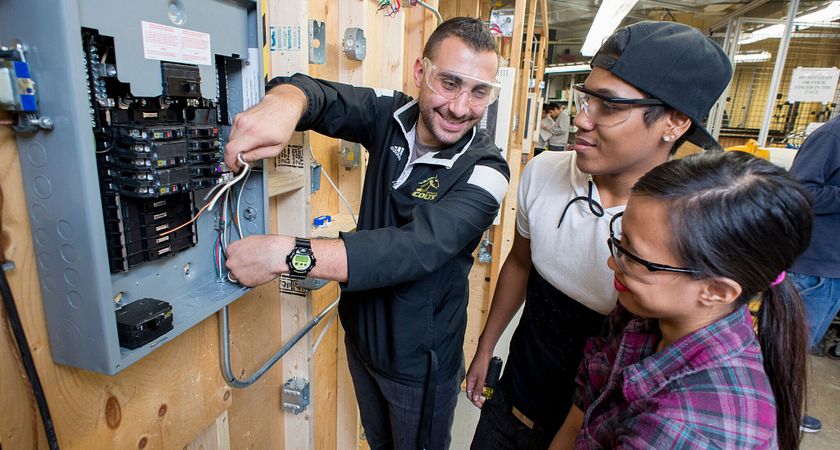 Every morning your alarm goes off at precisely the time you set it the night before--all thanks to Electrical Engineering Technology. While you don't typically think about the reasons your gadgets work or who the mastermind is behind them, it goes without saying that without them, we wouldn't be where we are today. And it only takes a little imagination to realize how different things would be. I'd always be late for work, my hair would resemble a bird's nest and without my morning coffee...oh, the horror!
Students in electrical engineering technology programs in Toronto learn the skills that help them develop and innovate technologies we use every day. This includes analog and digital control systems (found watches and clocks), power systems (such as motors in kitchen appliances) and electro‑optical devices (like LCD TV screens and computer monitors).
To prove just how much we depend on them, we've compiled a list of seven everyday items you can thank an electrical engineer for.
Wall clocks and watches: A far cry from old-fashioned sundials, which only kept time when there was sunlight, analog and digital time pieces are much more precise and can accurately tell time at any time of the day.
Phones: Remember when these were attached to the wall in the kitchen and getting one in your room was a really big deal (even bigger if you had your own line)? Today's phones are so much smarter than that.
Coffee makers: Early legend has it that goats are responsible for the discovery of coffee—well, just the beans (National Coffee Association). Today we can brew a single cup in a matter of seconds.
Microwaves: Ah, the microwave – every student's life saver. It's hard to believe there was time when everything was slow cooked on a stove or over a fire.
Televisions: Back in the day, friends and family would gather around to view a tiny black and white screen, about the size of an iPad. Fast forward almost 90 years and people are watching cinematic quality on wall-mounted, razor-thin screens as big as 75 inches.
Computers: It was only about 30 years ago that having a home computer was extremely rare. And if you had one, it was expensive, clunky and generally difficult to use. Now? I can't even remember a day I didn't use a computer.
Styling tools: People used to go to great lengths to achieve certain hair styles and the tools were something you'd expect to see in a torture chamber. Today we can achieve runway styles at home with hair dryers, curling wands and flat irons that are easy and much safer to use.
As anyone who's studied electrical engineering can tell you, the field is vast and touches almost every part of our daily lives. From enjoying a hot breakfast to catching up on Twitter, it's incredible how much we've come to rely on the efforts and innovations of these professionals. So what would your life be like without them?
If you're looking to achieve an electrical engineering technology diploma in Toronto, then look no further. Centennial College's School of Engineering Technology and Applied Science offers a three-year program that will see you realizing your future in no time.
By Ashley Breedon