OMNI TV visits Volvo/Mack Truck Lab at Ashtonbee campus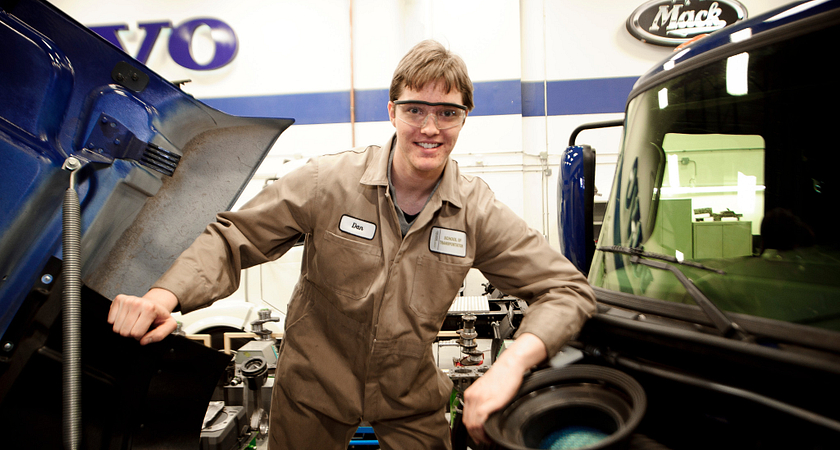 OMNI Television host Lucy Zilio visits Centennial College once again. She frequently drops by the college to learn about our programs. This time, she headed to Ashtonbee campus for the School of Transportation, where she got the inside scoop on the Truck and Coach Technician program.

Zilio visited the Volvo/Mack Truck Lab, where students in the Truck and Coach Technician modified apprenticeship program with Mack/Volvo were working on their technical skills. These students are employed by a truck dealership and are currently at Centennial for 32 weeks of in-class training. Zilio interviewed Professor David Morgan, who emphasizes on the college's hands-on practices.

"(Students) take all their required educational training up front. Past this program, they go into industry to practice their trade, to learn their craft," says Morgan.

Zilio also interviewed a student, Evgeny Aptekar, who was in the Accounting profession back in his home country of Israel. When he came to Canada, he realized that he needed a career change. He says, "I started to search for a trade that is in great demand. And I found this program and I am very happy to be here."

A career in skilled trades is in high demand, with plenty of opportunities opened to skilled workers. The Government of Canada is actively promoting education and training for professions in this area and offers grants to students. The School of Transportation has exclusive scholarships for their students, including the "IOL Mobil Delvac Technical Entrance Scholarship - Truck & Coach Technician" valued at $1,000 for a first-year student in the Truck & Coach Technician program (8204).