Work and school time options for automotive apprenticeships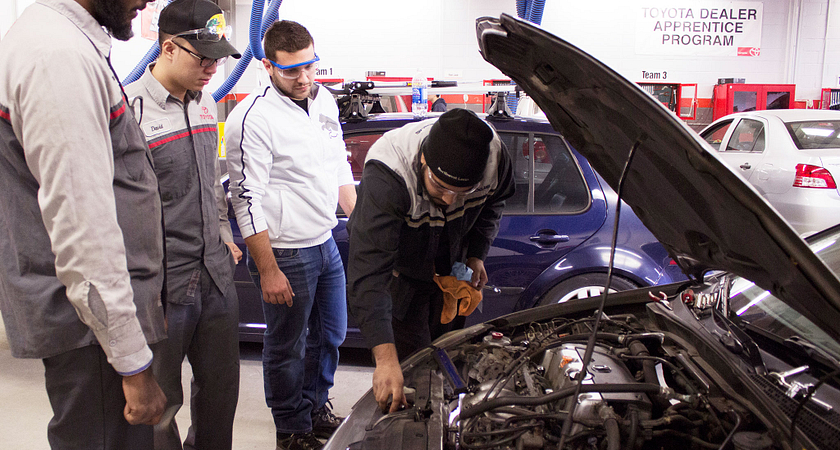 The School of Transportation offers plenty of hands-on experience, teaching them with similar equipment in the industry in modern lab facilities. It also offers programs with apprenticeship options, giving students an opportunity for higher learning and on-the-job training. There are apprenticeships offered to its students in automotive programs, giving them an option to earn-while-you-learn college life.

Traditional Automotive Apprenticeships offers flexibility for students and their employers by having three kinds of class options:

Block Release
Class option: The block release offers a longer period of continuous studies for apprentices, where they will attend school for a full two months, in three separate intervals. They will work full-time at their employers in between class training.
Benefits: Students can hone their skills best while focusing on one work load at a time.
Challenges: Students cannot work full-time at their employers, which will lessen their income.

Day Release
Class option: The day release will have students attending classes one day each week and working the rest of the work week at their employers.
Benefits: Apprentices can continue to earn or potentially work full-time hours at their employers.
Challenges: With only one day of school per week, students must keep up with their studies and ensure to review their classwork regularly to remember the teachings, and to complete assignments timely despite long work hours.

Night Release
Class option: The night release is for those who cannot leave their workplace during the day. Students will attend night classes twice a week.
Benefits: Students can continue to work full-time at their employers, while attending classes.
Challenges: With a continuous day of work and school, this heavy work load can be tiring, so students must ensure to manage their time wisely.

The option that students will take should be the route that works best for their way of learning. Considering their employer's needs will also help in maintaining good working relationships while having an opportunity to pursue higher education.