Five bikes you'll get to know inside and out in the motorcycle repair program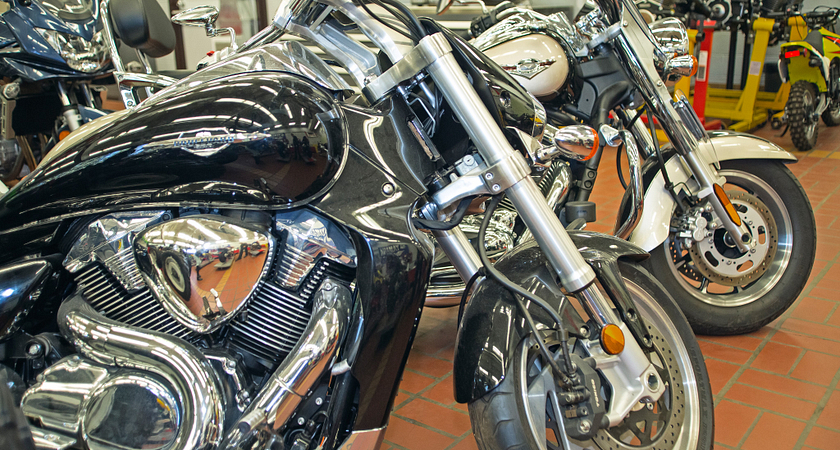 To some, there is nothing more exhilarating than the sound of a two-stroke in a dirt bike or a V-twin in a Harley. And if just reading this revs you up, then Centennial Motorcycle and Powersports is just what you need to help you turn that passion into a living.
Whether you ride a bike of your own or grew up marveling over videos of Evil Knievel's daring stunts, there's just something about bikes that's completely freeing and almost otherworldly. But in order to help you get your feet on the ground, we've compiled a list of five typical motorcycles you can expect to see rolling into the garage in a Motorcycle repair program:
Standard or Naked – A middle-of-the-road cross between a sports bike and cruiser that's good for a little bit of everything. With no fairings or windscreen, an upright riding position and comfortably placed handlebars and foot pegs, the standard motorcycle is the most basic of all bikes, as well as the most highly-recommended for new riders. It offers a good balance between comfort and visibility and is generally more affordable than other bikes. Main players include: Ducati, Kawasaki, Aprilia, Honda and Triumph.

Cruiser – For over 100 years, Harley-Davidson has held the title "king of the road" (and more specifically, king of the cruiser). A heavy, low-riding bike, this beast is typically loaded with chrome, has a long wheel base and puts the rider in a casual, slightly reclined position with feet forward and hands up. It gets its strong, low-speed torque from a hefty V-twin engine and gives riders an instant "cool" factor. Main players include: Harley-Davidson, Indian Motorcycle, Moto Guzzi, Honda and Yamaha.

Touring – The biggest of all bikes, these hogs were built for total comfort and practicality. With the capacity to take on long-distance driving, this heavyweight comes with larger fuel tanks, sizeable windscreens, ample luggage space, and room for a passenger. Riders sit upright and relaxed at a 90-degree angle and enjoy luxuries like plush seats and heated handlebars. Main players include: Harley-Davidson, Indian Motorcycles, Triumph, Kawasaki, Victory, BMW.

Sport bike – Packed with powerful engines and a fiery blend of torque and horsepower, sport bikes were built for speed. These wildly capable machines typically come with streamlined fairings for high acceleration and precise handling. Riders are positioned in a forward-leaning fashion with hands low for optimal aerodynamics. Main players include: Aprilia, BMW, Triumph, Kawasaki and Suzuki.

Dual-sport – Also called a street-legal dirt bike, these motorcycles give you the best of both worlds. Based off the build of a dirt-bike chassis, these on- and off-road motorbikes allow you to cruise the highways (with appropriate mirrors and lights), as well as take on the trails. They've got larger-than-typical fuel tanks and luggage compartments, as well as aerodynamic fairings. Main players include: Honda, Kawasaki, Suzuki and Yamaha.
So don't get left in the dust – know the ins and outs of these bikes and how to fix 'em before hitting the open road or those winding trails. What are you waiting for? Apply today for a motorcycle and powersports repair program!
By Ashley Breedon