No Two Seasons are the Same for Automotive Technicians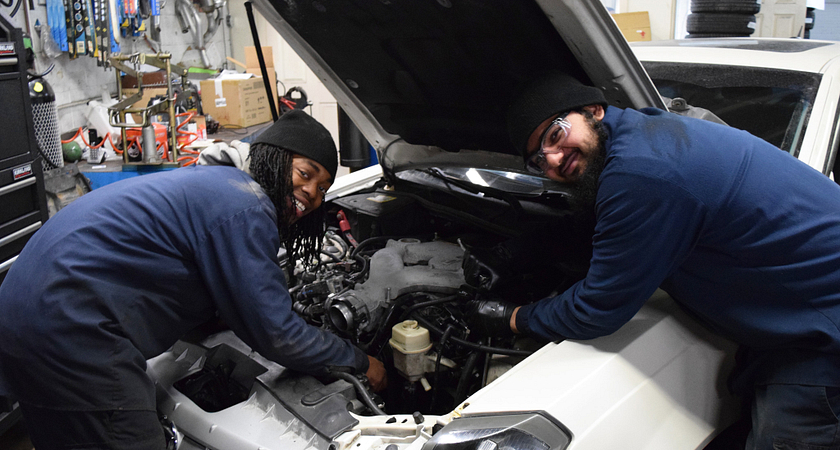 With approximately 18 million vehicles on Canadian roads, according to the Canadian Automotive Repair and Service National Accreditation Board, automotive technicians are kept busy all year round. And while students in the (Automotive) Motive Power Technician – Technical program at Centennial College focus on motor vehicle technology, they also acquire the knowledge to perform basic to advanced car maintenance and repair tasks — no matter the season.
 Here are some common seasonal car issues you should be aware of that a knowledgeable automotive technician can help you with.
Spring: Ah, spring! The birds are chirping, the trees are in bloom, jackets are being unzipped and cars, well, cars need a checkup. It's kind of like your regular checkup with your doctor. After a harsh winter, there is a range of issues your car may have, including potholes damaging your suspension (if your car doesn't drive straight ahead when you briefly take your hands off the wheel, make sure your automotive technician checks the suspension and the wheel alignment, suggests a CBS News report) to cold weather damaging engine belts and hoses (a broken belt or hose can cause problems from losing power to engine overheating).
Summer: One of the best feelings as a car owner is hitting the open road with your windows down and your music blaring. But before you take your next road trip, be cautious of two of the most common summertime car issues. Because an engine is capable of reaching more than 93 degrees Celsius (add to that the summer heat), it's no surprise why we often see cars on the side of the ride with the hood up. To avoid this, automotive mechanics can ensure your fluid levels (think motor oil and coolant) are where they need to be. Also, while we typically associate dead batteries with winter, summer heat can have the same effect! If your battery is old, have it tested right away.
Fall: Rain, falling leaves and temperatures that are starting to dip are all signs of Fall. You car notices the changes too. While the colourful falling leaves are nice to look at if they drop in the wrong place they could block up your car's vital air inlets. If your windshield is steaming up, it could be from leaves blocking the inlets just below the windshield. An automotive technician can help clear it all out. Also, because the weather becomes damper during this time of the year, condensation can be an added issue for your car's electrical system when temperatures start to rise above the morning chill. For the best diagnosis, head over to your automotive technician, who will be able to determine exactly what's happening using the latest computer technology.
Winter: Anyone who graduates from the Centennial College transportation program will be able to tell you that the harsh Canadian winter can be tough on any car. Aside from the usual battery problems (this is a major issue) and winter tire changes, you may also encounter, for example, stripping the teeth off the timing belt if you start a car with a frozen water pump. If this does happen, internal engine damage may occur and a trip to an automotive technician will be necessary.
 Centennial College offers automotive technician program options that allow students to obtain an education, graduate with a diploma and then apply to work in their field and gain apprenticeship hours. This structure is seen within to the school's (Automotive) Motive Power Technician – Technical, which takes two years to complete and covers the vehicle technology and the in-school content as the Automotive Service Technician apprenticeship curriculum standards for Level one and Level two.
By Izabela Szydlo