Three things you didn't know about Heavy Equipment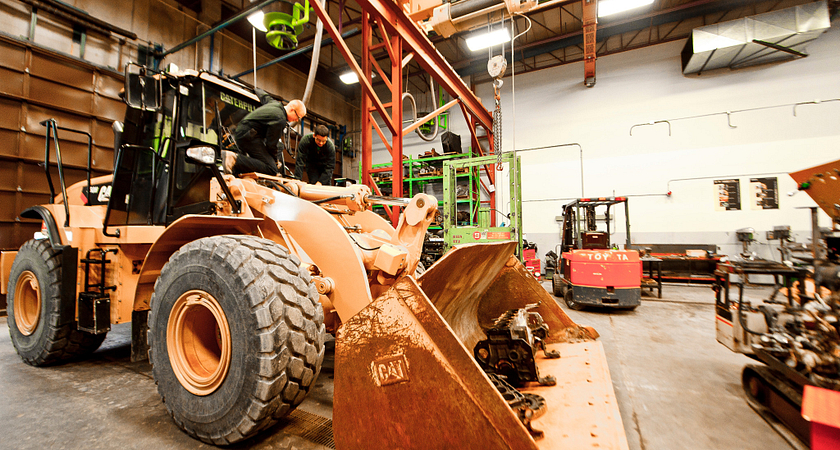 When you think of transportation and the transportation industry, does the phrase "Planes, Trains and Automobiles" pop into your head? It's not just a movie title, it's how we perceive transportation. But there's more that rolls, flies and swims than just those three things, and those vehicles need service, too. Centennial College's Motive Power - Heavy Duty Equipment Technician program gets you into the business of big vehicles such as buses, bulldozers and more. It's a different way to get into transportation, and maybe one you haven't considered. Here's how it works:
1. It's different from automotive work, but still shares a lot of the same DNA
The Heavy Duty Equipment version of our Motive Power program is taught at the same campus as our automotive programs for a reason. A lot of the same basic mechanical skills and knowledge are involved. However, the Heavy Equipment version of our Motive Power program represents an alternate path where you specialize in vehicles that are larger, and used for commercial purposes.
2. It's a specialized career, and because of that, it's one with a big demand
More ground-based vehicles than just cars need fixing in the world, and these vehicles aren't just used for getting from point A to point B. In Heavy Duty Equipment, you're focused on repairing larger vehicles such as buses, heavy-duty trucks and construction vehicles that use diesel engines and hydraulics. You get a unique, practical education that includes field experience, and if you know how to fix these big rigs, you will always be in demand.
3. Centennial College produces award-winning Heavy Duty Equipment graduates, and you can be one, too.
Like any transportation program at Centennial College, the goal of the learning is to give you the hands-on skills you need to succeed in your career. Often, Centennial students get a chance to show these skills off, in places like the Skills Canada competition. Our Heavy Equipment Technician students have won big at these competitions, like Ryan Green, who you can read about here. In other words, you literally get award-winning skills in this program. Summary: There's more to transportation than planes, trains and automobiles. Centennial College's Heavy Duty Equipment Technician program gets you into the business of big vehicles.
By Anthony Geremia