Finding the silver linings: Jennifer Valentyne's journey from Centennial College to living rooms nationwide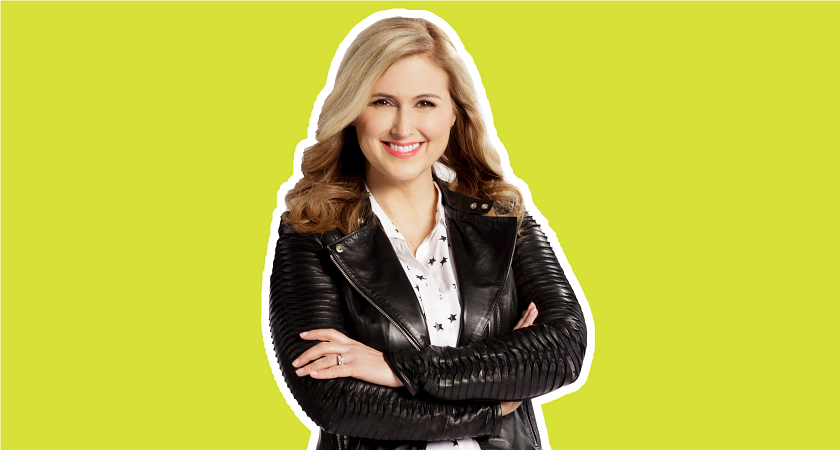 Jennifer Valentyne's journey into broadcasting started with her mother's love.
As she neared the end of high school, Jennifer – today the popular co-host of Global News Morning on Global Toronto – had a singular focus: to become an actress. Her parents, however, had a different idea.
"My parents didn't even want me to take drama in high school," she laughs.
When Jennifer was in Grade 13, her mother, Marlene, was diagnosed with terminal cancer. Knowing she wouldn't be there to support her daughter as she pursued the next stage of her life, Marlene became determined to help Jennifer find a career path that would combine her passion for theatre with a steady paycheque.
"She didn't like the fact that her daughter may be a struggling actress and she wasn't going to be there to help me," says Jennifer. "So as sick as she was, she went around to all of the colleges in the city for tours and picked up pamphlets, and that's how she discovered Centennial's Radio and Television Broadcasting program."
Together, Jennifer and her mother attended an information session about the program. She immediately knew broadcasting was the career path for her.
"I fell in love," she says. "I had never thought about how someone goes about working in television or becoming a director or producer. The world just opened up in front of me."
Marlene lived long enough to see Jennifer begin her first semester of the program – the start of an extraordinary broadcasting career that is going strong nearly 35 years later and counting.
The Centennial difference
It was Centennial's robust industry placement component that sealed Jennifer's decision to enrol in the Radio and Television Broadcasting program, now known as Radio, Television, Film & Digital Media.
Centennial's extensive list of industry partnerships is a major draw for students seeking an education that will prepare them for immediate employment in their fields. In broadcasting, students regularly take on placements with the likes of CBC, CTV, Corus Entertainment, ET Canada, MTV Canada and many more.
During her final year of the program, Jennifer was thrilled to get a placement with CTV – followed quickly by another opportunity at CityTV's MuchMusic, where she worked weekends in between her CTV internship. At the time, MuchMusic was just a few years old and one of the most exciting new frontiers of Canadian broadcasting.
"That's where I really started my career," she says. "That's where I wanted to be."
From VJ dreams to a morning television breakthrough
After working for several years hosting a behind-the-scenes spot and creating computer graphics for MuchMusic – "I would sit in the control room, meet all of the bands coming in and type in their names to appear on screen" – Jennifer was asked if she wanted a job as the "Diner Girl" on the network's morning show, Breakfast Television. She'd appear on air, but she'd have to serve coffee to the show's hosts, staff and guests.
"I said no, thank you!" she laughs. "I didn't want to get up at 4 a.m. And I wanted to be a MuchMusic VJ, not serve coffee."
It was Moses Znaimer, CityTV's co-founder and former head, who convinced her to take the job. "He had a way of seeing things about people even they couldn't see," she says. "He knew I'd do well in morning television."
Jennifer took the job. "I fell in love with it and I had the best time of my life," she says.
That role quickly turned into a gig delivering weather updates for the show before becoming host of Breakfast Television's Live Eye segment, venturing out into the city and covering trending people, news and events.
"I loved my job," she says. "And then one day it came to an end – I was fired. It was devastating."
Finding the silver linings
After 23 years with Breakfast Television, Jennifer's unexpected departure from the show had a profound impact on her mental health.
"I was in a really bad place," she says. "I didn't know who I was without Breakfast Television – I'd been there for 23 years and with CityTV for 28. I was experiencing tremendous loss and depression."
As she struggled to figure out what her future might look like, Jennifer found comfort and motivation in an unexpected place: the internet. "When my firing was announced, the public was there for me," she says. "They followed me on social media – my followers went up by 30,000 in one day. Some days I wouldn't even be able to muster the energy to shower, but I'd read every single message sent to me by viewers."
There were other silver linings, too. ("I always look for silver linings," she says. "They're so important in life!") A former camper from Camp Oochigeas (now known as Camp Ooch), where Jennifer worked as a counsellor in her teenage years, had been inspired by Jennifer to pursue a career in broadcasting and was working at the W Network. The network quickly got in touch to ask if Jennifer wanted to be the host of The Bachelor & Bachelorette Canada's After Show.
"It was an incredible opportunity," she says. "It was a national show and it gave me confidence. It made me feel valued."
With the support of her fans and her network, Jennifer has found her way back to a good place. In addition to her role as co-host of Global News Morning, she also hosts W Network's Movie Date, a series of engaging segments that appear throughout Hallmark movies aired on the channel, and she co-hosts the Instagram channel Mother Daughter Date together with her daughter, Georgia.
Reflecting on her journey, Jennifer believes more than ever that every challenge opens doors to new opportunities. "It takes time to heal and move on, but nothing lasts forever," she says. "To be able to look back and see the opportunities that opened up along the way is incredible."
Jennifer's broadcasting career has brought her more than a fulfilling 35-year career: she met her husband, Greg, at CityTV, where he worked as a cameraman before launching his own freelance production business. The two share children Jackson, 20, and Georgia, 19 – who, ironically, is studying theatre in New York City.
Jennifer's advice for the next generation
Centennial College is where it all began for Jennifer Valentyne. And if she could share one piece of advice with current students or new alumni of her program, it's this: don't give up – and be nice.
"Don't give up on your dreams," she says. "You have to work so hard in this industry, but it's worth every moment. And always be kind to others. If you're nice on the way up, people will remember you and want to help you on the way down."
Written By: Emily Dontsos