Networking opportunities help marketing grad launch career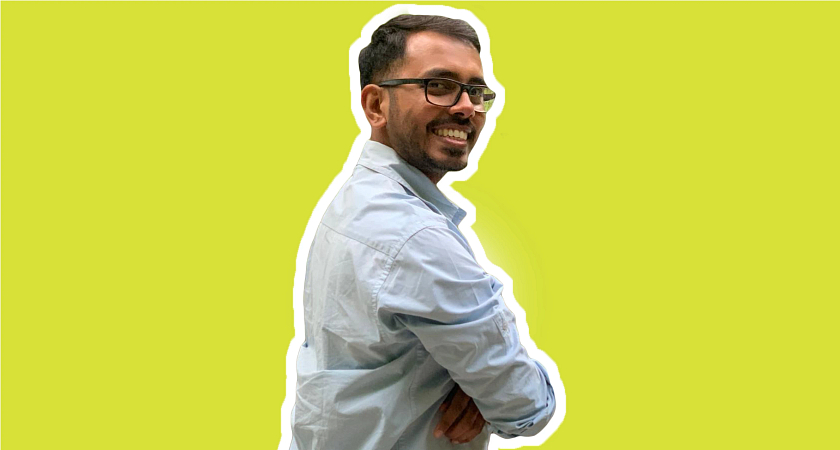 After completing an accounting and finance degree, it didn't take long for Davis Fernandes to realize his passion was elsewhere. What truly fascinated Davis was writing. Combining his knack for words with an interest in understanding consumer behaviour led the India native to two college programs at Centennial: Marketing Management and Marketing – Digital Engagement Strategy.
"Centennial turned out to be the perfect mediator between myself and my career prospects," says Davis. "I got to meet many professionals and instructors who still work in the field while I got a solid education. I also found the professors to be accessible and always willing to help you out."
In fact, during the research phase of choosing an institution for his marketing education, Davis spoke to his local career counsellors who specifically mentioned Centennial for its well-known and strong connection to industry and networking opportunities. Employing strategy, he narrowed his search to three Ontario colleges. It was the networking aspect that convinced Davis to choose Centennial College for his graduate certificate education.
"Networking was the most important factor for me because I knew it would be very helpful in getting a job," he says. "That's why it's important to research and really narrow down the benefits you'll get from a college program and a school."
What Davis had no way of knowing at the time was that one of his marketing and digital marketing classes would directly connect him to his future boss and play a role in his current career. Because Centennial College's Marketing programs, and other offerings, employ professors and instructors who are still active in their fields, in-class sessions often see professional guest speakers impart knowledge on learners. Students, in turn, have the unique opportunity to interact with these experts in an intimate setting.
"I initially got to speak with the CEO of the company where I currently work when he was a guest speaker in one of my classes," says Davis, who graduated from Digital Engagement Strategy in 2019 and was almost immediately hired as an advertising operations specialist by advertience, a digital marketing consultancy that delivers digital marketing services in media, creative and analytics. "I went back home to India in July 2019, and when I came back to Toronto, one of my instructors, who also works at advertience, saw that I was looking for a job and asked if I wanted to come in for an interview."
While Davis ended up concentrating on digital marketing, he says taking both the Marketing Management and the Marketing – Digital Engagement Strategy programs served distinct but equally important purposes. The former, he says, created a solid foundation and offered an overview of the entire marketing sector. The latter helped him to specialize his strategy skills and knowledge. Both programs, he says, are interactive and offer multiple opportunities to work with real clients.
"The client for my capstone project in Digital Engagement Strategy was Virgin Mobile," says Davis. "We also worked with other commercial companies on social media marketing. So, it was really hands-on and we got an idea of what we could expect from the field. I'm still using the skills I learned in the programs."
Written By: Izabela Szydlo