A Shift in Country and Careers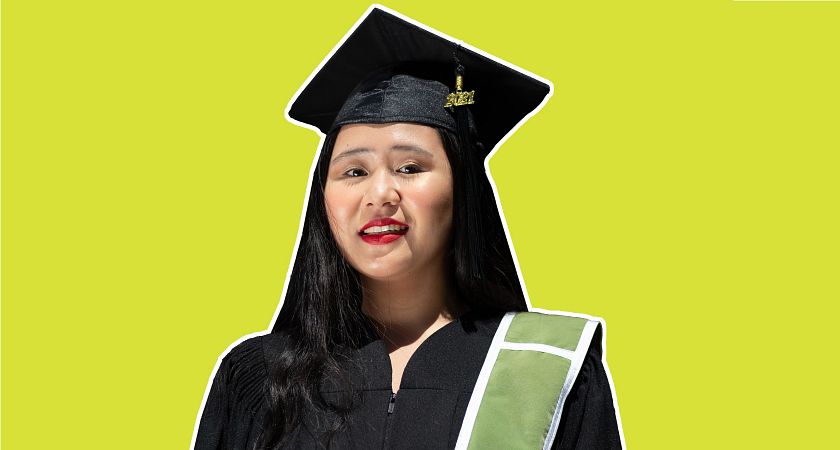 We love to see international students thrive at Centennial College. Coming to Canada can be a challenge, and success is always worth celebrating. Mila Monica Maralit is a #CentennialGrad of the Hospitality and Tourism program, and she's racked up a lot of accomplishments. Between her education at the college, she traveled, volunteered, pitched her business and received a pile of awards. But there's an important other side to her success: It wasn't effortless, and she'd need plenty of support from the college as an international student, mother and more. Here's what she accomplished, and how we helped her in her times of need.
"Choosing Hospitality and Tourism Administration was a career shift for me," Monica explains. "I finished a bachelor's degree in my home country, the Philippines, in linguistics."
"I had the opportunity to be a translator and interpreter, and that led me into the world of service," she continues. "And so I saw myself always traveling, becoming passionate about traveling more than my first love, which is languages. When my partner asked me about a plan to actually move and immigrate here to Canada, I saw it as a great opportunity to restart and learn about hospitality and tourism."
Monica would come to Canada and take our Hospitality and Tourism program, but wouldn't be content just to study in it. Instead, she took the opportunity to travel while she learned.
"In winter 2019, I was so lucky, because with the help of SAGE, I spent that semester in Scotland," Monica says. "I learned, from the UK perspective, how to manage cultural and heritage tourism inventories, because they really have an old civilization compared to Canada." She'd later talk about this experience on an episode of our Centennial College Podcast, which you can listen to here.
"During my research I learned about UN WTOs, the United Nations World Tourism Organization," she says. "I came across their website and learned that they are recruiting students, because they wanted their input about different social issues around the globe. It's also a competition, where different academic institutions would have a representative. And so I was one of Centennial College's representatives."
Even after the pandemic began, she still found ways to expand her horizons.
"Fall 2020 happened," she says, "and we all adapted. I joined the GCELE to India, which was a virtual event."
"My last semester, I still joined a virtual SAGE called a SIP, or Short International Program, to Belgium, Austria and Finland," she says. "Pre-COVID, students would go to Europe and study different business practices, but this was a virtual thing. It was still very interesting, and I got European course credits for that."
"I really, really am thankful to Centennial College for investing in their students," she says of the travel, which was mostly paid by the college. "I know that it's not cheap to send people to any part of the globe. And I wouldn't have had that experience, if not for SAGE and Centennial College."
Advice for new alumni
As for other students who want to follow in her footsteps, Monica says it's about determination and knowing when you need help.
"If you want something, just be committed," she says. "Be committed to yourself, even though you don't know yet how to do it. Just trust yourself, and don't be afraid to ask for help when you need it. Because you will really have a great host, especially with Centennial College. In this community, there is a huge, great support system."
"Centennial College is not just like any other academic institution," she adds. "They really support you all the way."
Written By: Anthony Geremia